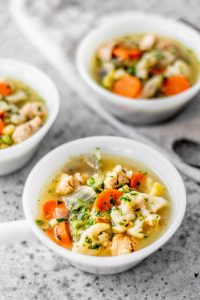 Let me introduce you to Croatian chicken soup or how we lovingly call it 'ajngemahtec' back home, though I believe the correct spelling on that one would be Eingemachtes. It has slight variations and in my home it was made with chicken, carrots, cauliflower, peas and dumplings. More veggies could be added if we had them and wanted to use them up but the ones mentioned were the base and what we always put in. Dumplings cooked in yummy soup are to this day my favorite part and I make a good one, but my Mama makes the best one, obviously. There's nothing quite like your Mom's cooking.
This is a very, very simple and healthy soup and it's done fairly quickly. It can be done with chicken on or off the bone, but I must admit, I enjoy it more with chicken breast, than chicken wings for example. I love roasted or fried chicken wings, drumsticks etc. but not so much when cooked in a soup. This right here is what I crave when I am sick. This is my 'chicken noodle soup', it feeds my body and soul and I hope you try and make it!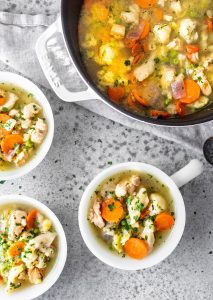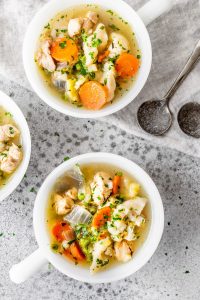 Croatian Chicken Soup
2020-01-25 00:17:55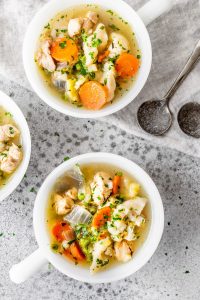 Serves 6
Croatian chicken soup with dumplings
Nutrition Facts
Amount Per Serving
* Percent Daily Values are based on a 2,000 calorie diet. Your Daily Values may be higher or lower depending on your calorie needs.
For the soup
1 Tbsp oil
1 lbs chicken breast, cut up in 1" pieces
2 carrots, sliced in thin circles
1/2 onion, roughly chopped
2 cups small cauliflower florets
3/4 cup peas
1/4 cup celery root, diced into small pieces
1/4 chopped parsley
1 garlic clove. crushed
*I added 1 cup chopped Napa cabbage I had in the fridge that went really nice with this
1 chicken bouillon
salt and pepper
4-5 cups of water
For the dumplings
1/2 cup flour
1/4 tsp salt
about 1/4 water, you are looking for a consistency thicker than pancake batter but not something that holds its shape.
Instructions
Heat up a tablespoon of oil in a pot and add the onions, carrots and celery root. Cook for about 2-3 minutes and then add the chicken and crushed clove of garlic. Cook for another couple of minutes. Add the water and chicken bouillon, season with salt and pepper and cook for 30 minutes.
Add cauliflower florets, peas and Napa cabbage if using and cook for 15 minutes.
While the soup is cooking, mix the flour with salt and the water for the dumplings.
Add the chopped parsley and spoon in the dumplings directly into simmering soup and let cook for another 10 minutes.
Notes
If you cannot find celery root you can use one stalk of celery instead. Parsnip is another vegetable I love in this soup.
Mogwai Soup Blog https://mogwaisoup.com/