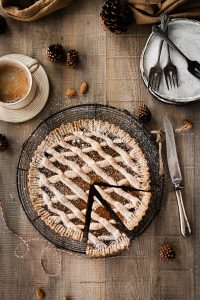 Meet my most favorite holiday dessert ever, the Linzer Torte. Honestly, even though I say Tiramisu is my favorite dessert, this one is right up there with it, I just eat it only once a year for Christmas so it isn't usually the first thing that comes to mind, but the spices in this torte and combination with jam, it's just out of this world to me. I grew up eating it and this was the cake that made me happiest when my mom would finally make it, and yes, I ate most of it. I think I remember every bite I ever took, I love it so much.
Linzer cake is Austrian in origin, it comes from a city called Linz. I make mine with ground almonds, but ground hazelnuts or even walnuts can be used, even though I think walnuts are a bit less traditional. One year I really want to try making it with hazelnuts too, I love them! It is also debatable what is the most traditional jam to use in it. Redcurrant, raspberry and apricot are used most often though, and out of the three, I will forever choose apricot.
Linzer torte is perfect with an afternoon cup of tea and I can happily report that all three of my boys absolutely love it. My dog Walter loves it too, but I am less happy to report that. That dog is starting to really get into everything and I feel totally helpless. My tactic is eat the torte before he gets to it, hahaha. I'm joking of course. Or am I?!
The spices make this torte very festive and Christmasy, but I would happily eat it any day and I sure hope you give it a try. Whatever jam you choose, I am sure it will be delicious!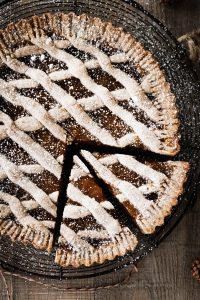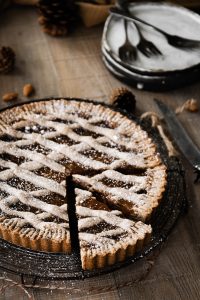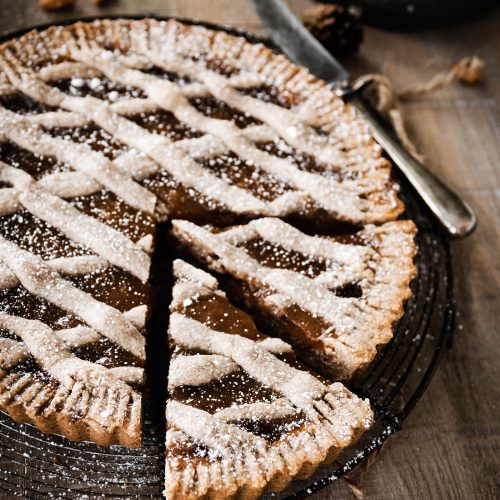 Linzer Torte
Cake made with short crumbly pastry and apricot jam
Equipment
springform pan or tart pan
Ingredients
140

grams

sugar

3/4 cups

140

grams

flour

1 cup

140

grams

ground almonds

1 3/4 cup

140

grams

butter, room temperature

10 tablespoons

zest of one lemon

zest of one orange

3

rgg yolks

1

tsp

ground cloves

1/2

tsp

cinnamon

pinch of nutmeg

pinch of salt

apricot jam

1

egg

for egg-wash
Instructions
Preheat the oven to 350.

Mix butter with sugar until light and fluffy, add egg yolks and mix well and then add the mixed dried ingredients. Mix until all is well incorporated.

Grease an 8 inch springform pan and for extra safety I cut out a round piece of greased cookie sheet and put on the bottom. Reserve  a small piece of the dough for the lattice, about a fifth of it. Shape the rest of your dough into a disk and put it into the pan, shape with fingers so there is about a 1/4 inch  rim around, not too high. Spread your marmalade on top, except for on the rim, making sure you don't put too much or it will ooze over the lattice and it will not look pretty. 

Now split your reserved dough into two equal pieces. Count on making 5 to 7  1/4 inch thick round strips for your lattice in each direction. There will obviously be the longest middle one so reserve more dough for that one, then two shorter ones and so on…for the end ones you will need very little dough, but you will see that as you go…I usually make my strips first and put them on the side of the pan trying to gestimate where they will go to make sure they are pretty even and I have enough dough before I actually put them on top of the marmalade. When I do the opposite direction of the lattice, I do everything the same, but when I am laying them down, I use my fingers to seal them a little bit where they are overlapping the bottom layer.This is a crumbly dough and I find it way to difficult to try to overlap the dough like in a real lattice, one over and under the other.

Before it goes into the oven, brush it with beaten egg. Bake for 20 minutes until nicely browned. Try not to over-bake it, I did it a couple of times and it goes from glorious to inedible in just a few minutes, keep an eye on it!

Merry Christmas! 

Sretan Božić!