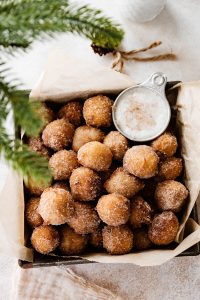 I cannot believe it's Christmas in 4 days! I have to admit, this year I've had a bit of trouble getting into the Christmas mood. I decorated right after Thanksgiving and started listening to Christmas music. We've watched Christmas movies almost every day for the past three weeks and even went through a drive through Christmas lights show, but I think I miss the people and the stores. Seeing cheerful people shopping for family in the mall, all the different smells everywhere, decorations that make me gasp all over the place and just the buzz of Christmas. I've done everything I can at home, but I'm getting a very big lesson this year, just how important people are and how much we all mean to each other. Being home for the past 9 months has been mentally very hard, even though I am incredibly grateful we are able to stay safe that way. So I might have overcompensated with baking and cooking. Sue me. We never ever eat Fritule except on Christmas Eve for dessert. This year there are no such silly rules. Fritule on Tuesday, Thursday and whatever day. For you and you and you. I've made them traditional, but also tried out some different quicker recipes that were yummy too. We've baked so many cookies that at this point I look like a sugar cookie myself, but that's ok.
Being able to be around friends and family next Christmas will be the best gift ever. This year the best gift is our health and I am grateful. I hope we are all able to have a nice Christmas, no matter how we celebrate, and If you want to try something super unique and delicious, stick around for this recipe. Fritule are Croatian fritters, they are made in many ways but my family makes it from potato dough. We also put different booze in them, but the alcohol all burns out when frying so kiddos can eat them too. We also put raisins in them, which I adore. But if my brother is around, there is always a batch without them, he hates them. Weirdo. We roll them in cinnamon sugar, usually confectioners sugar but I thought they'd look prettier rolled in regular sugar for the photos, and I have to say they were very yummy like that too. Cinnamon sugar is one of the worlds best things, seriously. They need to be eaten warm and you need to show up hungry! Even though I melted some white chocolate for the photos, this recipe doesn't really need any kind of dipping sauce, because they already have beautiful aroma from the booze and raisins and also flavor from cinnamon sugar, but some people serve the plain ones with Nutella or melted chocolate, it's also very yummy! No matter when you try and make these, I hope you love them!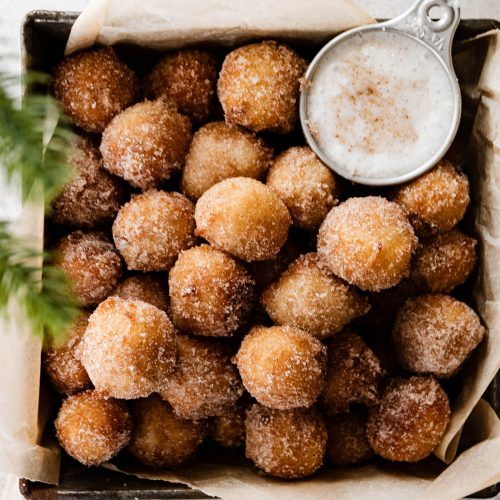 Fritule
Ingredients
1

lbs

potatoes

3/4

cups

all purpose flour

3

tbsp

sugar

2

tbsp

Maraschino or Cherry

2

tbsp

Spiced Rum

2

tbsp

Gin

1/4

tsp

anise extract

1

tsp

Rose water

pinch of grated nutmeg

zest of an orange

1/2

cup

raisins

1

bag

of active dry yeast

about 1 1/2 cup boiling water

canola oil for frying

2

cups

confectioners sugar

4

tbsp

cinnamon
Instructions
In a small bowl combine all of the alcohol and soak the raisins in them. Cook the whole unpeeled potatoes and peel them while still hot, then rice them in a bowl of a kitchen stand up mixer. Immediately  mix with flour and alcohol (remove the raisins first) and add water to make a perfect soft sticky dough. You will probably not use all of the water and you just kind of play it as you go to get a nice dough. You are not looking for the dough to start forming a ball because this dough is too wet for that , it will be very sticky and that is ok. If you do add all the water and it still looks too dry, add some more gin or rum. Add the yeast and mix it vigorously to add air to it until you get something like bubbles popping and then add the nutmeg, salt, sugar, orange peel and raisins. Mix and let it sit covered in a warm place for about an hour.

Heat up a pot with oil for frying and fry fritule until golden brown. In the past I shaped them into balls using two small spoons or alternatively you can spoon the dough into a pastry bag and do a similar technique to how you'd make a churro, just cut small balls out of the tip of a bag. This is how I did them today and it was actually quite fast and easy. When they are done put them on a plate with paper towel to drain the extra oil and then roll them in mixture of confectioners or regular sugar and cinnamon. Serve warm.