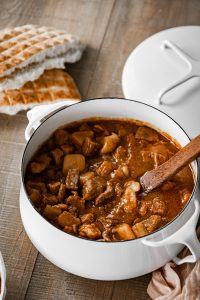 This Hungarian Goulash is quite popular in Croatia. Of course, we all have adjusted it a bit and everyone has their own way of making it so I don't know how authentic it even is anymore, but one thing I know is, it is absolutely incredible and delicious! I'm using my mom's "recipe". You know, one of those phone calls where she says, "well you cook a lot of onions first and then add the meat, and make sure to use plenty of paprika and some other spices, and then you add the potatoes in the end. Or you can add dumplings too." Not very specific, there's a million things in between, but you get the point. We allow for a lot of personal touch in this, so that is what I did. This is my Hungarian goulash and if you do not try it, you are seriously missing out on an incredible dish. Absolutely go with both potatoes and dumplings (dumplings are the best part, always).
We eat a lot of soups and stews in Croatia. We call it "jela na zlicu" and it literally translates to foods on spoon. When I moved here it took me years and years to stop literally translating some expressions to people in conversations, because they just don't work and make me sound weird. Like, "how are you Andrea, do you like foods on spoon a lot?" I remember telling my husband to stop flying around like a fly without its head and he kept starring at me. Obviously Americans have their chicken without its head expression, but these were all things I learned with time here, and I honestly still sometimes do this. It makes my boys laugh!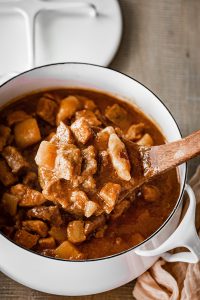 Hungarian Goulash
Beef and pork stew with potatoes, dumplings and lots of paprika
Ingredients
canola oil

3

yellow onions

1

lbs

beef chuck, cubed

1

lbs

pork shoulder, cubed

3

tbsp

Hungarian sweet paprika

1

tbsp

smoked paprika

1/2

tsp

cayenne pepper (optional)

3

tbsp

tomato paste concentrate

1

tsp

garlic powder

3

dry bay leaves

1

tsp

sugar

water

2

russet potatoes, small to medium size

1

cup

flour

1/2

cup

water

salt and pepper
Instructions
Thinly slice the onions and start sautéing them on some canola oil in a big pot. Cube the beef and pork and add to the onions once the onions are fully softened, after about ten minutes. The meat will slowly release some water, cook while occasionally stirring until that water evaporates and then add all the spices, bay leaves, sugar, salt and pepper and the tomato paste. Stir well and cook for 1-2 minutes then add 3 cups of water. Cook the meet for about and hour and a half, adding water as needed to keep the meat covered. Once the meet is tender, peel the potatoes and cut them in bite size pieces and add to the meet. Add water if needed.

While that is cooking in a small bowl mix 1 cup of flour with about 1/2 cup water and 1/4 tsp salt. Make a thick paste out of it, thicker than pancake batter.

When potatoes are almost tender make sure there is enough water in the stew and with a spoon start adding the dough for the dumplings. You will be adding about a teaspoon at the time. You don't want them too big and they do expand a bit while cooking.

Cook for another 10 minutes gently stirring as needed and if it is too thick add a bit more water. There really isn't an exact thickness this has to be, you can make it more or less thick depending on your preferences, I made mine slightly thicker than my mom makes hers and I love both!

Even though this already has both potatoes and dumplings in it, it is really yummy with some good bread on the side for dunking in the incredible stew! Triple the carbs, yes!!!