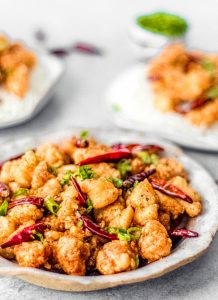 I have a great love for Asian food and fried chicken but I do not have very many great options for Asian food take out in my town. I live about half an hour drive from Salt Lake and sometimes when the craving hits I'm not willing to take that drive…so when I want these crunchy, spicy and salty nuggets – I have to make them myself. Luckily, cooking brings me great joy so it is a win-win situation.
My boys love these, I just adjust the amount of chilis I use when I do a batch for them because they do like some spice, but not quite as much as I do. These last about 30 seconds here so I always need to remind myself to do a double batch. They are addicting. I used to make rice for a side dish and sometimes broccolini too – it is a nice combo, but honestly everyone just wants to eat the chicken, so now I don't bother anymore and just make lots of chicken and we love it! It does not a well balanced meal make, so definitely go for the veg, I'm just saying it like it is in my house 🙂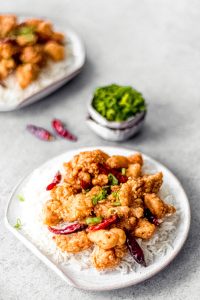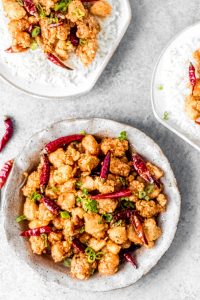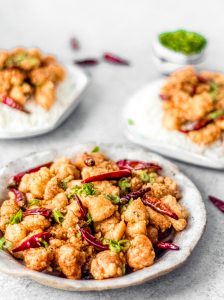 Fried Chili Chicken
2020-01-27 22:02:12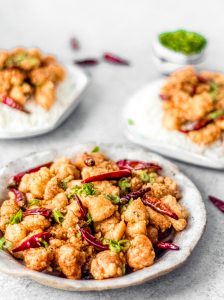 Serves 4
Asian spicy chili pepper chicken nuggets
Nutrition Facts
Amount Per Serving
* Percent Daily Values are based on a 2,000 calorie diet. Your Daily Values may be higher or lower depending on your calorie needs.
Ingredients
6 boneless, skinless chicken thighs
1 cup corn starch
1 cup flour
1 tsp salt
1 cup dry red chili peppers
1 Tbsp crushed Szechuan peppercorns
5 garlic cloves, minced
3 Tbsp Mirin
3 Tbsp soy sauce
2 tbsp sesame oil
1 Tbsp Sriracha
canola oil for the frying
for the marinade
1/2 cup corn starch
1" ginger, minced
4 garlic cloves
3 Tbsp soy sauce
3 Tbsp rice vinegar
2 Tbsp honey
1 tbsp sesame oil
for the garnish
2 scallions, the green parts only
Instructions
Combine all the marinade ingredients in a bowl. Cut the chicken into 1" pieces and add to the bowl. Mix well then cover with plastic wrap and let marinate in the fridge for 1 hour.
Once the chicken is done marinating take it out of the fridge. Heat couple of inches of oil in a cast iron skillet.
In a shallow bowl combine the corn starch, flour and salt and mix well. Toss the chicken in it then fry it in batches, making sure you are not overcrowding the pan. Once it is done transfer on a cooling rack until all of your chicken is done.
Combine minced garlic, sesame oil, Mirin, soy sauce and Sriracha in a bowl.
Add the dry chilis to another pan or a wok and cook stirring constantly for about a minute then add the sauce and cook for a minute. Add the chicken and toss it all well for a few minutes.
If desired serve over rice and garnish with green onions.
Notes
I do not eat more than 3-4 pieces of chilis, I like the spice it brings to the dish when they are cooked together, take into consideration how spicy you like your food and adjust accordingly! My kiddos don't eat them at all but they do like the chicken cooked with a few of them!
It is also very important if the chilis are left whole, they will bring much less spice to the dish than if they are chopped or crushed so the seeds mix in with the sauce!
Mogwai Soup Blog https://mogwaisoup.com/