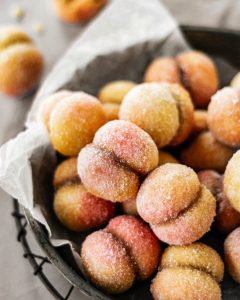 These adorable cookies are found on cookie and cake platters on most holiday tables and big events in Croatia. They are lovingly called Peaches because of their looks and I adore them. They are essentially two small cookies hollowed out and filled with a mix of cookie crumbs, ground walnuts and jam, then you combine them together, dip them and roll them in sugar! They can take a little bit of time to make so I don't do them very often, but when I do, I enjoy them so much!
This recipe makes a lot so sometimes I cut everything in half!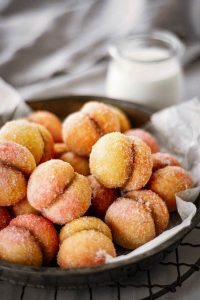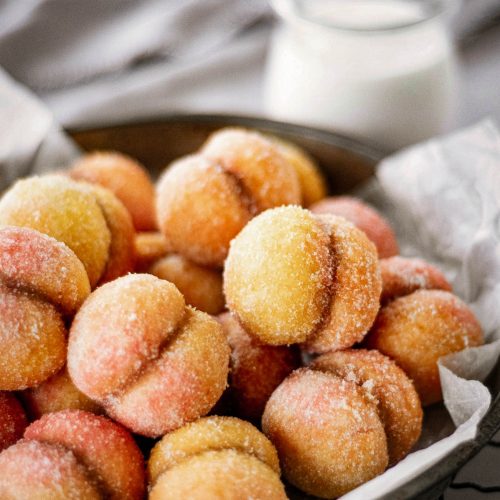 Breskvice
Peach looking cookies with walnut and jam filling
Ingredients
3

eggs

1/2

cup

milk

200ml

1/2

cup

canola oil

200ml

1 1/2

cup

sugar

300g

7

cups

flour

2

tbsp

baking powder

1

tsp

vanilla extract

pinch of salt
For the Filling:
few tablespoons of peach or apricot jam

1

cup

ground walnuts

some crumbs from hollowed out cookies

1,4

tsp

rum extract
To assemble:
1

cup

milk

yellow and red food coloring

sugar for coating
Instructions
In a bowl put eggs, sugar, vanilla extract, milk and oil and mix well. On the side mix the flour with baking powder and salt then start adding to the egg and sugar mix one cup at a time. Mix just until you get a smooth dough then cover with plastic wrap and put in the fridge for an hour.

Preheat the oven to 350F.

Make little balls out of the dough about 1" in size and put them on a baking sheet lined with parchment paper. If using a tiny cookie scoop, make sure you roll the dough in your palms and not just scoop them on the baking sheet because they would flatten out too much. If the dough gets too soft refrigerate the cookie balls for 20 minutes before going into the oven. Also, leave a little space between each cookie and bake for about 20 minutes - just until they start browning on the edges.

Let them cool slightly and then hollow out each cookie saving the cookie crumbs for the filling.

Mix the cookie crumbs with the walnuts and rum extract and add as much jam as you need for the filling to hold together.

Fill generously each half of the cookie then put the two halves together. If there is too much filling once combined, just remove it with your finger. Once all the cookies are combined prepare two bowls with about 1/2 cup milk each and put just a drop or two of red, and in the other yellow coloring, then quickly dip the cookies in a way to imitate the peach look, let each one be different and roll into sugar immediately then let dry. Once dry I store them in the fridge for up to a week or freeze them in zip lock bags and take some out as needed and let them come to room temperature.

Alternatively for dipping you could add just a tiny bit of strawberry extract to the milk with red dye and use water with orange syrup for the other. I try to use minimal extract and dye so there is no funky aftertaste.

I hope I didn't scare you away, they really are simple to do just take a bit of time making the little cookie balls and then hollowing them and putting them together, I think it's totally worth it!