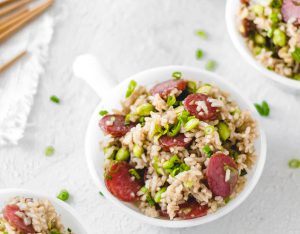 One of the favorite things I ate in Hawaii on our trip in October was fried rice that they made in our hotel. It was really quite simple but so delicious. I don't claim it to be authentic, just yummy!
What makes it really special is the Chinese cured pork sausage and I got mine from Amazon, even though I'm sure I've seen them in an Asian market in Salt Lake, so that is always an option if you have one locally.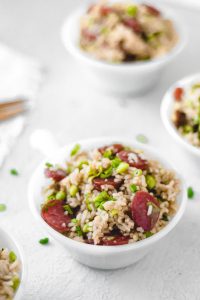 Hawaiian Fried Rice
1/2 yellow onion, diced
1 clove garlic, minced
Chinese cured pork sausage,9oz
1 1/2 cup edamame
6 green onions chopped
5 cups day or two old white rice, I used long grain
few tablespoons of Shoyu sauce
1/2 tsp of Chinese five spice powder
if you'd like some spice, a few pinches of red chili pepper flakes is nice
Tbsp of canola oil and sesame oil each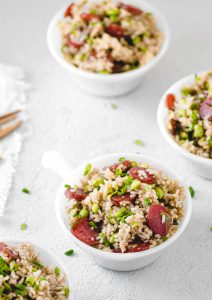 In a wok or large pan cook onions in a mix of canola and sesame oil then add the sliced pork sausage and cook for just a couple of minutes. Add the garlic, 3/4 of the green onions and edamame and stir well. If you are using, add the red chili pepper flakes.
Add the rice and Shoyu sauce and cook for a few minutes until the rice is evenly coated in the sauce and warmed through. Serve with some green onions on top and enjoy!