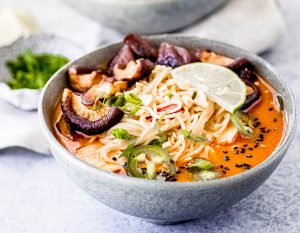 I've been craving a good noodle bowl for a while but I don't feel like driving far for it and currently where I live there is just not a really great place for ramen, Pho or Thai food, so I made one myself!
This comes together in under half an hour and is literally bursting with flavor and even my husband – who is so not a noodle guy – loved it!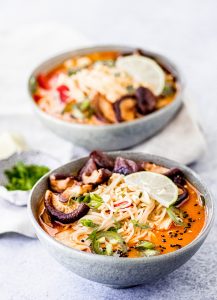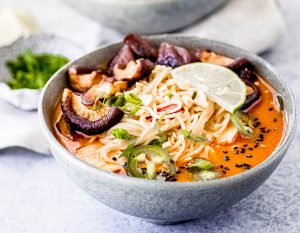 Panang Curry Noodles
2019-12-16 23:34:38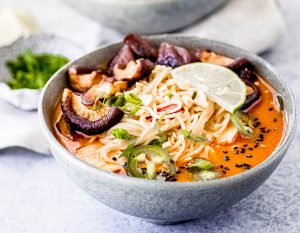 Serves 4
Delicious curry noodle soup that is ready to eat within 30 minutes!
Nutrition Facts
Amount Per Serving
* Percent Daily Values are based on a 2,000 calorie diet. Your Daily Values may be higher or lower depending on your calorie needs.
Ingredients
6oz Shitake mushrooms, stem removed and cut in half
1 Tbsp soy sauce
6oz thinly sliced chicken
1 yellow onion, thinly sliced
1 red bell pepper, sliced
8oz ramen noodles
2 Tbsp Panang curry paste
4 cups chicken broth
1 can coconut milk
4 cloves of garlic, minced
2″ knob of fresh ginger, minced
2 tsp of lemongrass paste
2 Tbsp soy sauce
2 Tbsp fish sauce
canola oil
salt and pepper
Lime, cilantro, jalapeno and chopped peanuts for garnish
Instructions
Cook the mushrooms in a little bit of canola oil until nicely browned, add 1 Tbsp of soy sauce and cook for another minute then set aside.
Add some canola oil in a pot and cook the onions and the peppers for just a minute or two then add ginger and garlic and cook for another minute. Remove from the pot and set aside. Put some more oil in the pot and then add the curry paste and cook stirring constantly for a minute or two. Add the soy sauce, the fish sauce, chicken broth and let it get to simmer. Add the sliced chicken and ramen noodles and cook according to packaging. Just before the noodles are cooked add back the onions and peppers and one can of coconut milk. Stir well and it is done!
Make sure to top each bowl with some mushrooms, jalapeno slices, chopped cilantro, peanuts and a good squeeze of lime. Yum!
Mogwai Soup Blog https://mogwaisoup.com/