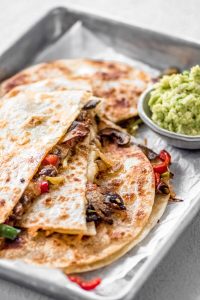 My husband adores me when I make quesadillas, his personal favorite is chicken quesadillas and this one is definitely my favorite one. Guys, I love meat but I super duper LOVE mushrooms, and all veggies for that matter. I didn't make these spicy because the whole family was eating them but you can bet I added some hot sauce on mine when I was eating it. If I was making this quesadilla just for myself, I would have added one sliced jalapeno to the veggies and cooked it with them, that would have been so good!! Let me know if you try it!
Mushroom Fajita Quesadillas
2019-12-16 22:52:21
Serves 4
Veggie and cheese heaven wrapped in delicious tortilla packages
Nutrition Facts
Amount Per Serving
* Percent Daily Values are based on a 2,000 calorie diet. Your Daily Values may be higher or lower depending on your calorie needs.
Ingredients
8oz sliced mushrooms
1/2 yellow onion, sliced
1 red bell pepper, sliced
4 green onion, sliced
1/2 tsp garlic powder
1 tsp ground cumin
1 tsp chili powder
4 flour tortillas
1 cup Mozzarella cheese, shredded
1 cup Pepper jack cheese, shredded
1 Tbsp butter
olive oil
salt and pepper
Instructions
Slice up your veggies and shred your cheese.
Cook mushrooms, onions, red bell pepper and green onions in a little bit of olive oil, season it with cumin, garlic powder and chili powder and some salt and pepper. Cook for about 7-8 minutes then set aside.
Take your tortillas and cook each one on a dry pan for just about 30 seconds to cook only the one side. Set them aside.
Now take 1/2 Tbsp of butter and melt it in a pan. Put first tortilla uncooked side down then top with 1/2 cup of shredded Mozzarella and 1/2 cup of shredded Pepper jack cheese. Take half of your veggies and spread them over the cheese evenly. Top with another tortilla, uncooked side up.
Cook on first side for about 2-3 minutes until nicely golden brown then flip and cook for another 2 minutes or until golden brown on the second side. Repeat one more time then cut each quesadilla in half. Additionally I cut each quesadilla half into three pieces, serve with sour cream and sliced avocado or guacamole!
Notes
I love using the packaged ready to cook flour tortillas for this, it takes just an extra second but the end result is so much better than using ready to eat tortillas!
Mogwai Soup Blog https://mogwaisoup.com/