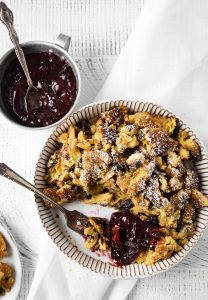 So, what in the world is Kaiserschmarrn you might ask? Well, it is something delicious! I'm not sure if it is Austrian or German because I had it in both countries, but it is basically torn or scrambled pancakes served with powdered sugar and jam. Usually plum jam, but you can go here with whatever you like, with my kiddos it's always strawberry jam.
It is incredibly simple to make but so yummy, and sure, you can just make regular pancakes but why not have some fun and play around a little!? The caramelized bits on Kaiserschmarrn will win you over!
Now don't get scared, but I love raisins in here. You can certainly skip it if you are a raisin hater, like my brother for example! But we are all raisin lovers here in my house so we go all the way. And you better believe it we soak them in Rum! Well kind of. Sometimes haha. If kiddos are eating with us I microwave them with a couple of tablespoons of water first and add half a teaspoon of rum extract so that is another option should you choose to go with the raisins but don't want to use real Rum!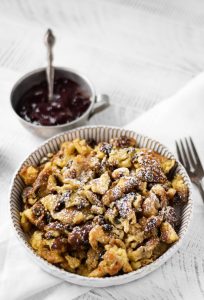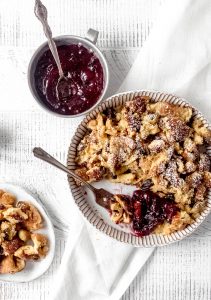 Kaiserschmarrn
2020-03-11 20:44:02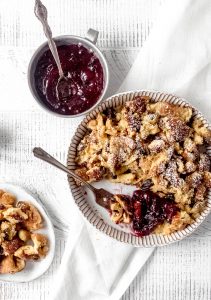 Serves 4
German (or Austrian) torn pancakes served with plum jam
Nutrition Facts
Amount Per Serving
* Percent Daily Values are based on a 2,000 calorie diet. Your Daily Values may be higher or lower depending on your calorie needs.
Ingredients
4 eggs, separated
1 cup flour
1/4 cup granulated sugar + 2 Tbsp
1/2 cup milk
2 + 4 Tbsp butter
pinch of salt
1/3 cup raisins
3Tbsp Rum (or water plus 1/2 tsp rum extract)
2-3 Tbsp powdered sugar
Instructions
Combine the raisins with Rum in a small bowl and set aside for 10 minutes.
Separate the egg yolks from the egg whites. Melt 2 Tbsp of butter and mix it in with the milk, flour, egg yolks, pinch of salt and the sugar. Mix for 2-3 minutes.
In a separate bowl beat the egg whites until stiff peaks form. Gently fold in the whites in the egg yolk mixture. Drain the raisins and also carefully fold them into the batter.
In a pan melt a tablespoon of butter and add in half of the batter. Cook until the pancake is golden brown underneath then flip and cook until that side is golden brown as well. Now use back of two spatulas or spoons to tear the pancake into chunks, add another tablespoon of butter, sprinkle with a tablespoon of sugar, stir and let it cook until it's starting to get a bit crispy and caramelized.
Repeat with the rest of the batter, then sprinkle everything with powdered sugar and serve with jam on the side. I recommend plum jam.
Notes
Alternatively, if you have a wide pan you might be able to fit all of the batter in all at once, flipping the pancake might not go as easy like with a smaller batch (pointing the finger at myself) but since you are tearing the pancake later it doesn't really matter.
Mogwai Soup Blog https://mogwaisoup.com/