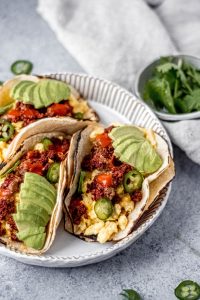 Guys, how are you doing? We are in some crazy times, that's for sure. I haven't posted in a couple of weeks, I am also cooking less, or I should say very simple and uneventful. Using up what I have and being very mindful of what I make and trying to go to the store as little as possible, every couple of weeks or so.
As if this coronavirus crisis wasn't enough, on the 18th we had a big earthquake here in SLC. Now, I am a highly anxious person and ironically, earthquakes are my biggest fear. And it happened. Not the big one they keep warning us about all the time (does not help with the anxiety) but big enough that it absolutely freaked me/us out and the aftershocks have honestly been hell for me. To make matters even worse, because why not, my hometown Zagreb had several big earthquakes just a few days later. It was very hard to cope with all of this, to process that such a crazy coincidence would happen, of us both having earthquakes in just a matter of few days and on different sides of the world. It was so hard to see my city hurt. It's an old city and there was a lot of damage. It was and is hard seeing people I love scared, also being scared myself. Just tough times. We are all in it together though.
I needed to get this of my chest, I hope you don't mind. No matter how hard these things are to deal with right now, I keep telling myself that this too shall pass.
I am grateful for everything right now, for my people with me, for internet so I can keep touch with my family and friends not only in Croatia but everywhere. That we are able to homeschool our kiddos because of it. I'm grateful for the food we have and that my husband is able to work from home. I am especially grateful and in awe of all of those people out there, doctors, nurses, CNA's, people that work in stores we need open, drivers that get us those things in the stores, for our delivery men and women that keep us going and every other single "essential personnel" out there. THANK YOU SO MUCH!
It's emotional times. I have seen so many good in people that I am crying tears of gratitude all day long. Some tears of fear too. It's all normal and none of this is normal. Let me try and share just a bit of normal with you/
Before this all started I cooked and shot a lot. I have quite a few recipes that I'd still like to share. One of them are these breakfast tacos. They are simple but delicious and chorizo makes them really special, my kiddos absolutely loved them!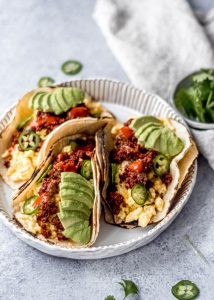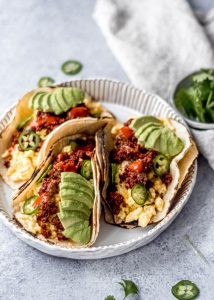 Egg and Chorizo Breakfast Tacos
2020-03-31 01:26:42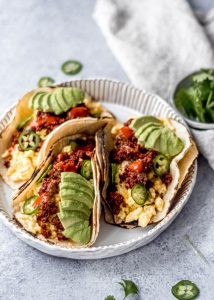 Serves 4
Cheesy egg tacos with chorizo on corn tortillas with avocado and cheese.
Nutrition Facts
Amount Per Serving
* Percent Daily Values are based on a 2,000 calorie diet. Your Daily Values may be higher or lower depending on your calorie needs.
Ingredients
6 eggs
9oz pack of chorizo
1/3 cup shredded cheddar cheese
2 tsp canola oil
1 small avocado
8 flour tortillas
hot sauce
salt and pepper
Sliced jalapeno
Instructions
Cook chorizo on a pan for 5-7 minutes, drain excess fat.
Char the tortillas on both sides on a gas burner if you have one or alternatively on a pan.
Scramble the eggs and season with salt and pepper. Heat the canola oil in a non stick pan and then pour the eggs in it. With a spatula gently push the eggs from one side of the pan to the other creating "ribbons" as you go. 3/4 of the way through add the shredded cheese, stir and turn the heat off. Keep stirring the eggs until cooked then divide between the tortillas - two per taco works great.
Top with the chorizo, avocado, jalapeno and hot sauce if desired. The last two are totally optional depending how much heat you like.
Notes
One of these is super filling to me but if you are very hungry you might want to grab two.
Mogwai Soup Blog https://mogwaisoup.com/