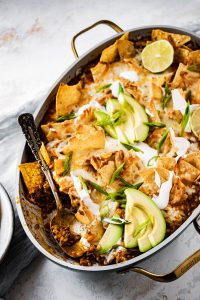 I've been waiting to post this one forever guys. I'm finally getting to it now that I have a computer again. Mine died several weeks ago and even my IT genius hubby couldn't do anything about it, all of the stuff I had on that wasn't backed up about a month and a half ago was just gone. Lots of work and edits, I was so sad. But here we are. New computer is here, I started again on my edits and it's finally time to share these pics with you. The recipe is from Tieghan and her Half Baked Harvest blog, one of my favorite blogs ever. I cook a ton of her recipes and this one is my older sons favorite. He begs me to do it all the time. I made just a few tiny changes and I always do just depending on what I currently have in the fridge and the pantry. It is super adaptable and incredibly tasty and fun to eat!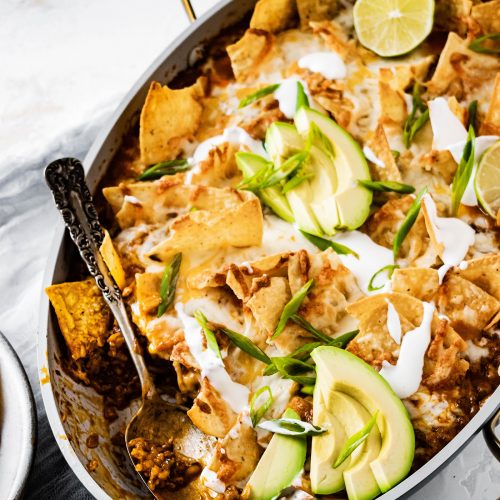 Enchilada Rice Nacho Casserole
Saucy cheesy rice with ground beef, topped with lots of tortilla chips and cheese and finished in the oven
Ingredients
2

tbsp

olive oil

1

lbs

ground beef

1

yellow onion, chopped

2

jalapenos, chopped

5

cloves

garlic, minced

2

tsp

smoked paprika

2

tsp

ground cumin

1

tsp

kosher salt

2 1/2

cups

red enchilada sauce

1

chipotle chili in adobo, chopped

1

cup

long grain rice, dry

1 1/2

cup

cilantro, chopped

1

lime, juiced

2

cups

tortilla chips

2

cans (small)

chopped green chiles

2

cups

shredded Mexican cheese

1

avocado, sliced

Mexicana crema for serving

freshly ground black pepper

green onions for garnish
Instructions
Preheat the oven to 425 degrees.

Saute ground beef in some olive oil in a large oven safe skillet. Add the onions and cook for about five minutes. Add the jalapeños, chopped green chiles, garlic, paprika, cumin, and salt, cook 1 minute. Season with freshly ground black pepper then stir in the enchilada sauce, chipotle chili, and 2 cups of water.

Cook for 2-3 minutes then add the rice, stir well and lower the heat and cover and cook for 15 minutes until most of the liquid has cooked into the rice, but not all of it.

Turn off the heat and stir in the lime juice and cilantro then sprinkle with half of the cheese. Arrange tortilla chips on the top and sprinkle everything with rest of the cheese then transfer to oven and let the cheese melt for about ten minutes.

Serve with avocado, spring onions and Mexicana crema.
Notes
I have made this with ground beef, ground chicken and even with shredded chicken breast form a rotisserie chicken so you can totally play around with it.