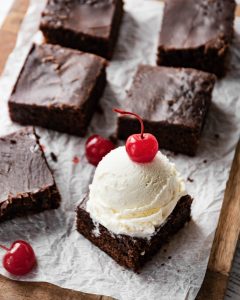 Have you ever had a Coca Cola cake? If not, you're seriously missing out. Let me tell you how I was introduced to it for the first time. I have great neighbors, as a matter of fact, one of my best friends lives across the street from me. Every summer we like to get together in our cul-de-sac, maybe six or seven families and we do some kind of a pot luck situation. Sometimes we just bring whatever we feel like and we all share and enjoy the beautiful weather and nice conversations. Sometimes we plan it a little or have a theme, but more often it's just very relaxed. It makes me happy. I love people, I love feeding people and sharing food and while we aren't doing anything together this year because of COVID-19 we are still going to share a dish with each other, mask on style drop off at the door, minimum contact. But isn't that so nice? I love our little togetherness.
Anyway, last year Shanel, my friend form across the street, brought over dessert, a Coca Cola cake. It looked a lot like brownies to me but it wasn't brownies. Nothing against brownies, I love them just like any other chocolate loving human, but I loved this even more! I asked her for a recipe and I lost it somehow over the past year and I never did it, but every now and then I'd remember the cake, how incredibly tasty it was, super moist and with yummy frosting that wasn't really a frosting. A few weeks ago I asked her to please send me pictures of the recipe because I really wanted to make it and I also asked her for the name of the cookbook so when I post it on here I can credit the author of the cookbook. Well when she sent me the picture of the cover of the cookbook I realized it was Jocelyn form Grandbaby Cakes blog and I was already following her. I just never realized she had a recipe for this cake. I thought that was pretty cool and definitely ordered her book. Now, that was not easy because it's literally sold out everywhere, but I managed to get it straight from her publisher, I just need to be patient till September. So worth the wait though, it will be such a nice little present for me come Fall.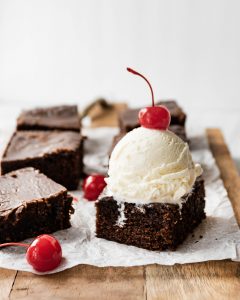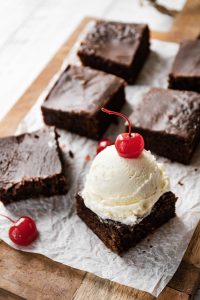 I think this is an amazing cake for 4th of July celebration. You can serve it as I here with Vanilla Ice cream or with whipped cream and even add blueberries and raspberries to make it more festive if you want. I just thought it looked so cute and retro with Maraschino cherry on top!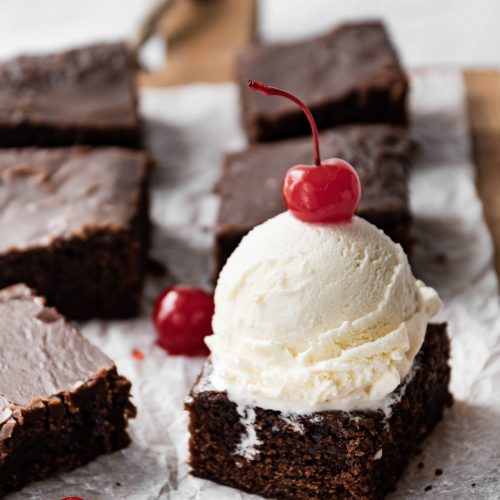 Coca Cola Cake
Ingredients
1

cup

Coca Cola

1/2

cup

canola oil

1/2

cup

unsalted butter

3

tbsp

unsweetened cocoa powder

1/2

cup

mini marshmallows

2

cups

sugar

2

cups

all purpose flour

1

tsp

salt

2

eggs

large, room temperature

1/2

cup

buttermilk

1

tsp

baking soda

1

tsp

pure Vanilla extract
For the Frosting:
1/2

cup

unsalted butter

3

tbsp

unsweetened cocoa powder

3

tbsp

milk

3

tbsp

Coca Cola

1

tsp

pure Vanilla extract

1

lb

confectioners sugar
Instructions
For the Cake
Preheat the oven to 350 degrees.

In a pan on the stove top mix together Coca Cola, butter, oil and the cocoa powder and hear over medium heat until it boils then turn off the heat.

Add the marshmallows and stir until they are completely melted.

To your stand up mixer bowl add sugar, flour and salt and mix on low. Slowly pour in hot cocoa mixture and mix on medium speed then add in eggs, buttermilk, baking soda and vanilla extract and beat until well combined.

Spray a 9x13 sheet cake pan with non-stick baking spray.  Pour the cake batter into the pan and spread out evenly.

Bake for 40 to 50 minutes until a toothpick inserted into the center comes out cleans or with just a few crumbs on it.
For the Frosting
When the cake is almost done add the butter, cocoa powder, milk, Coca Cola, Vanilla extract and confectioners sugar into a pot over medium high heat and whisk together until boiling and well mixed.

When the cake is done pour the frosting over it right away and spread evenly then let cool before serving.
Notes
I honestly enjoyed this cake best on it's own but my kids absolutely loved it still slightly warm served with Vanilla ice cream!
No matter how and where you will be celebrating tomorrow, Happy 4th of July. Stay safe.