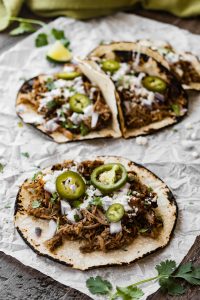 I'm back with another favorite of mine, and I am honestly still trying to find someone who doesn't love these. The carnitas tacos! Yes you can make them in your slow cooker, yes you can make them in the oven, but I make my carnitas in the Instant Pot! It is super easy, you are done with everything in 2 hours and I have carnitas not only for tacos but for all the other meals I love using it for. I have carnitas pizza on the way for you guys, carnitas salad and rice bowl, carnitas grilled cheese is literally to die for, but for today, we are going with a classic – Carnitas tacos!
I cannot stress how delicious this is, it makes a good amount of meat so you have lots of meals out of it and please don't skip broiling it for a few minutes in the end, it makes such a difference!! Those crispy bits are better than any candy on this earth! So good in fact that I make carnitas every week or two. You do you, I'll do me. 😀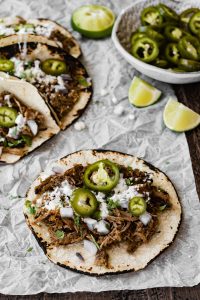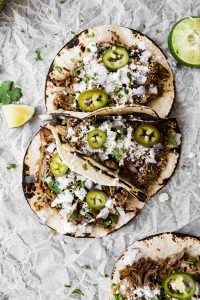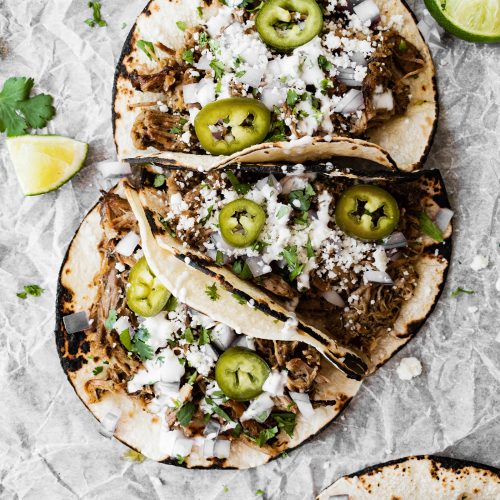 Carnitas Tacos
Delicious Carnitas folded in tacos with fresh onions and cilantro and Cotija cheese
Ingredients
For the Carnitas:
3 - 3 1/2

lb

pork shoulder

3

oranges

juiced

4

limes

juiced

1

small yellow onion

finely chopped

8

cloves

garlic

minced

1

tbsp

cumin

1

tbsp

dried oregano

1

tsp

chili powder

1

tbsp

canola oil

salt and pepper
To assemble the tacos:
corn tortillas

2-3 per person

red onion

chopped

Cotija cheese

crumbled

cilantro

chopped

picked jalapeños

Mexicana crema

lime wedges
For pickled Jalapeños:
8-10

jalapeños

sliced

3

cloves

garlic

sliced in half

1

cup

white vinegar

1

cup

water

2

tsp

salt

1

tbsp

sugar
Instructions
For Carnitas:
Put a tablespoon od canola oil in your Instant Pot on saute setting and brown the pork shoulder well on all sides. Juice the oranges and lime and add to the instant pot.

Add the chopped onions, minced garlic, oregano, cumin, chili powder, salt and pepper. Mix well and put the top on, seal the went and cook on high pressure for hour and a half.

Once the pork is done release the pressure on the instant pot, take the top off and shred the meat. Mix it in with the rest of the juices and transfer to a large sheet pan and broil for 8-10 minutes, mixing it around a couple of times in the process.
To make picked jalapeños:
(Prep a day ahead)

Slice the jalapeños and garlic. In a bowl mix together water and vinegar, salt and sugar. Place the jalapeños and the garlic in a jar and pour the vinegar mix over it to the top.

You can start eating them the next day but they are good for weeks!
To assemble the Tacos:
Char the corn tortillas on the grill or on the stove top directly over the gas burner, if you have one.

Crumble the Cotija cheese, chop the onion and the cilantro.

Put some carnitas on each tortilla then top with a little bit of each desired topping and finish off with a little bit of Mexicana crema and lime juice.
Notes
Sometimes instead of pickled jalapeños I use fresh ones and we also love to add avocados. I add avocados to pretty much everything but I didn't have any when I was taking these photos!