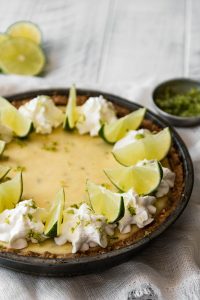 Today is a big day. It is my 40th birthday! It is both a happy and a sad day. First off, I was nervous a few months ago about turning 40. It felt like a big change, but now that it's here it is not a big deal at all, I'm totally fine with it and I feel exactly the same as yesterday when I was 39. Who would have thunk it, huh? 🙂
I am happy because I am one of those people that LOVE birthdays, I love celebrating them, I love cake, gifts, attention and all of it, yup I said it! But I am sad because I was supposed to be celebrating my big 40th right now back home in Croatia with my family. I know lots of people didn't go on their vacations this year, but going home is more than a vacation for me. It's home. We were going on a big long Croatia stay for 5 weeks and we were going to visit Italy, Austria and spend some time in Amsterdam as well. I'm hoping we can do it next year even though at this point I am already wondering if we will be able to.
I also planned on celebrating my 40th home for years – and I haven't been home for years. So yeah, a bit sad too. But I am doing my very best to concentrate on the good, my wonderful little family and amazing Italian take out we are getting tonight to celebrate because I may be making my own cake (blackberry and elderflower cake) but I am not cooking my own dinner. I will be doing that tomorrow on the second day of my birthday. What? You don't have second day of your birthday? You're missing out. Next thing you'll tell me is that you don't celebrate the day before your birthday either and I don't know if we can be friends anymore then! 😀
All jokes aside, I was thinking what did I want to make to post on my birthday, and it had to be one of my all time favorite desserts, Key Lime Pie. Don't get me wrong, Tiramisu is still my #1 but I'm having that for dessert tonight, and I'm not making it. (yet)
So let's get to it, it's amazing btw. I really, really hope you try and make it, I sneaked in some coconut in the crust and OMG!!!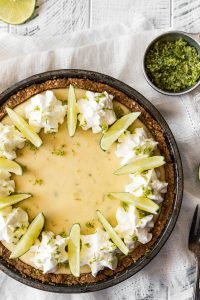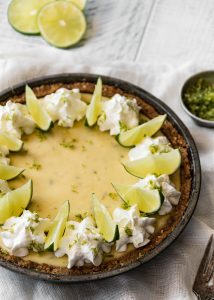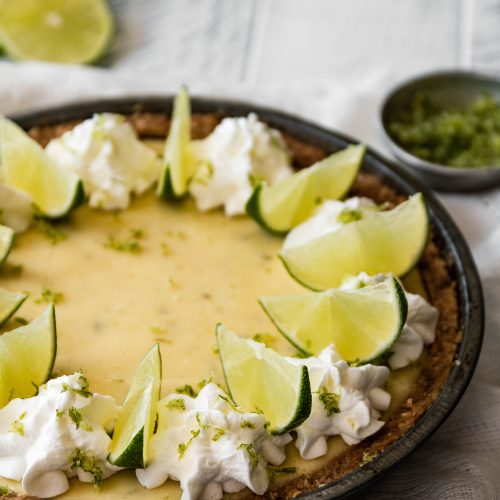 Key Lime Pie
Delicious key lime filling in a coconut graham cracker crust finished with some whipped cream
Equipment
Pie dish, I used a metal one
Ingredients
For the crust:
12

graham crackers

(1 sleeve)

1/3

cup

sweetened coconut flakes

1

tbsp

sugar

8

tbsp

butter

melted
For the Key lime filling:
2

cans

sweetened condensed milk

(14 oz each)

5

eggs yolks

3/4

cup

Key lime or lime juice

1

tbsp

lime zest
For the whipped cream topping:
1

cup

heavy cream

2

tbsp

powdered sugar
Instructions
For the crust:
Preheat the oven to 350 degrees.

Pulse together all the crust ingredients, press mixture firmly into your pie dish and bake at 350 degrees for 8-10 minutes.
To finish the pie:
Whisk together the sweetened condensed milk with the egg yolks until smooth and slightly thickened. Add the lime zest and the lime juice and mix for another minute or two.

Pour the filling onto the cooled crust and bake for 18 minutes on 350 degrees. When done, transfer onto the cooling rack and let cool completely before transferring to the fridge to finish cooling for at least 4 hours or overnight.
For the whipped cream topping:
Whip together the heavy cream with the powdered sugar until stiff peaks are just about to form.

Transfer into piping bag with a star tip (or whichever you desire) and pipe onto the cool pie right before serving.