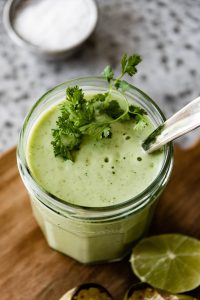 If you live in Utah you know what Cafe Rio is. It's our beloved Mexican cantina restaurant with some seriously delicious food and this is probably the most popular and famous thing on the menu, the creamy house dressing. Well, this is my attempt at it because we seriously can't live without it. This goes on salads, tacos, burrito bowls, you name it. It is addictive! If you've never heard of this you absolutely need to try and make it! If you know what it is, well…you know! :)))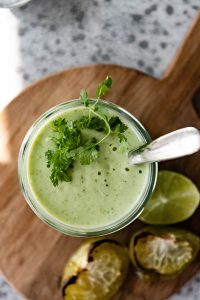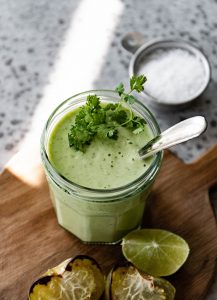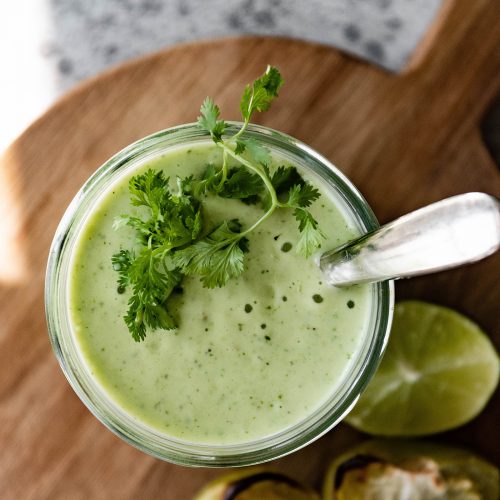 Creamy Tomatillo and Jalapeno Ranch
Cafe Rio copycat creamy tomatillo and jalapeño ranch dressing
Equipment
Food processor or blender
Ingredients
2-3

small to medium tomatillos

1 1/2

cup

buttermilk

1 1/2

cup

light mayo

1

package

Ranch dressing mix

2-3

cloves

garlic

1/2

bunch

cilantro

1

small lime

juiced

1

small jalapeno

seeds removed
Instructions
Clean the tomatillos and cut in half, do the same with jalapeno and remove the seeds if you don't like too much heat (I left mine in so the dressing was nice and spicy)). Broil for 5-10 minutes until slightly charred.

Put all the ingredients into a food processor or blender and blend until completely smooth, about 1 minute.
Notes
Serve on salads, tacos, or burrito bowls. I love this on top of roasted veggies too or as a chip dip. We basically love it with anything!