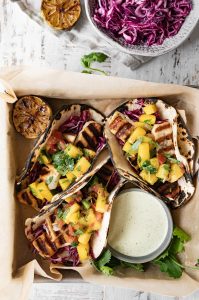 One of the easiest way to make my kids eat anything is to put it in a taco. There is just something magical about tacos, for adults and kids alike, that makes you feel good and happy about eating them. I think tacos are truly one of life best foods and their versatility is one of my favorite things. So here are grilled Halloumi cheese tacos. Have you ever had Halloumi? I absolutely love this cheese, it is the best cheese for grilling because it will not completely spread and melt on you and it holds it's shape, yet it gets nice and crispy on the outside but still gooey on the inside, it's amazing!!! Look at those nice grill marks.
I paired the Halloumi with a simple red cabbage slaw and a mango salsa, Avocado on top is optional, but is it really? Of course we are adding the avocados too! I think they are so beautiful and we eat with our eyes first. Who wouldn't want to take a bite out of that?? On the side is my creamy tomatillo and jalapeno ranch from the previous post so go have a look at that!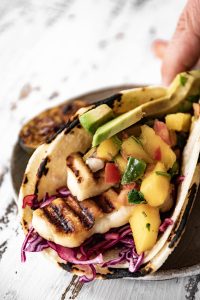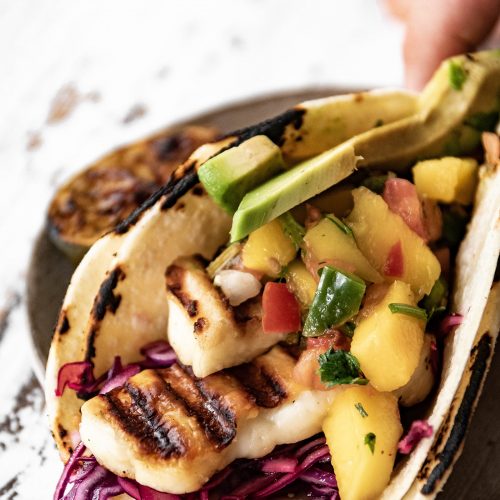 Halloumi tacos
Grilled Halloumi cheese tacos with mango salsa and red cabbage slaw
Ingredients
For the mango salsa
1

mango, diced

1

small Roma tomato

1/4

cup

diced red onions

1

small jalapeno, seeds removed

1/4

cup

chopped cilantro

1/2

lime, juiced

salt and pepper
For the red cabbage slaw:
2

cups

shredded red cabbage

1

lime, juiced

1

tbsp

canola oil

salt and pepper
For the tacos:
8

corn tortillas

8

oz

Halloumi cheese

red cabbage slaw

mango salsa

creamy tomatillo and jalapeno ranch

sliced avocado
Instructions
For the mango salsa:
Peel and dice a mango. Cut the Roma tomato in half and remove the seeds then dice it. Cut the jalapeno in have, remove the seeds and dice as well. Dice the onions and chop the cilantro. Mix together in a bowl and add the lime juice and salt and pepper to taste. Mix well.
For the cabbage slaw:
Finely shred or slice the red cabbage. Season with the lime juice, canola oil, salt and pepper. Let sit at least ten minutes before serving.
For the tacos:
Char the tortillas on top of your gas stove burner or alternatively you can grill them.

Slice the Halloumi cheese into 1/2" thick slice, about 1" wide. Spray the grill pan with cooking oil spray and grill the cheese about 2 minutes per side.

Assemble the tacos by taking two tortillas and putting some red cabbage on the bottom, then adding the Halloumi cheese, toping it with mango salsa, avocado and finishing it off with the creamy tomatillo and jalapeno ranch.