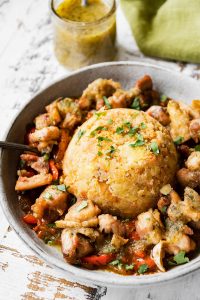 I've made my own mofongo! I am so happy with it, now is it most authentic? I'd guess no, but it sure tastes good! The first time I had mofongo was about eight years ago in a local Puerto Rican restaurant. It absolutely blew my mind, everything I had there did. The place sadly changed owners, started having some problems and eventually closed and I haven't been able to find good mofongo in Utah since. I tried a few from a food truck here and there but they just didn't have that big flavor I remembered and were usually too dry. I made sure I didn't have those problems, it's so good guys! It was my first ever time cooking with plantains and now that I've done it I can't wait to make my own tostones and everything else I like. I absolutely love the flavors of Puerto Rican, Cuban and Dominican cuisine so I am very excited.
I wanted to make this with pork belly but sadly I couldn't find it that day and I went with chicken thighs – skin on. I also decided to slice some peppers and onions and saute it and make it into a saucy topping to go along with my chicken. I finished it with citrusy green mojo sauce and this dish was most definitely not dry or lacked any flavor! Go big or go home. Also PSA, I love garlic, you might want to go easier on it if you like milder flavors and this is the sofrito that I used as a base.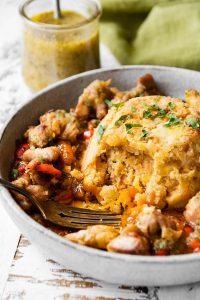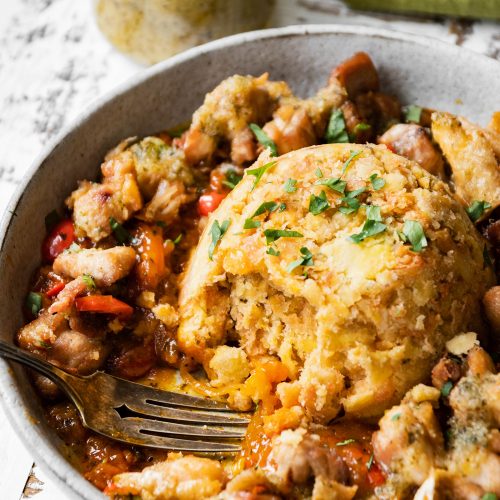 Mofongo
Mofongo with crispy chicken, peppers, onions and green mojo sauce
Ingredients
For mofongo:
4

plantains

canola oil for frying

6

cloves

of garlic

salt

6

chicken thighs, skin on

1

cup

chicharrones

(I bought spicy pork rinds)

1/2

cup

chicken broth

hot
For the peppers and onions:
2

tbsp

olive oil

16

oz

sofrito

1

red bell pepper

1

small yellow onion

5

cloves

of garlic

2

tsp

sazon

1/2

tbsp

dry oregano

salt and pepper to taste
For the Green mojo sauce:
3

limes

2

oranges

4

cloves

of garlic

1

tsp

dry oregano

1/4

cup

cilantro, chopped

1/4

cup

olive oil

salt and pepper to taste
Instructions
Start by preparing the green mojo sauce. Juice the limes and oranges, roughly chop the garlic and cilantro. Blend together with rest of the ingredients. Season with salt and pepper to taste.

Cut you chicken into bite size pieces taking care that skin stays on. Set aside, you will fry the chicken last.

Slice the pepper and onion. Saute them in olive oil for a few minutes then add minced garlic. Cook another few minutes then add sofrito, sazon and dry oregano. Cook for ten minutes then set aside.

While peppers are cooking peel the plantains and cut them into 1" chunks. Heat up canola oil in your pot for frying and fry the plantain for 4-6 minutes until golden brown. Season well with salt and them smash with minced garlic and chicharrones. I was planing on making my own but again, didn't get lucky at the store. I used spicy pork rinds and it was delicious. If you try it once all is mixed and it seems on the dry side you can add a few tablespoons of hot chicken broth to it. It was easier for me to smash the plantains in two batches. I used my extra large guacamole mortar and pestal.

In the same oil you fried the plantains in now fry your chicken pieces for 4-5 minutes, depending on the size. My second batch was done in more like 3 minutes! Once done season well with salt and pepper and you are ready to assemble.

Plate the food by placing the mofongo in a small bowl and pack it tightyl. Invert into your serving bowl or a plate. Add some peppers and onions then top with fried chicken. Finish it off with green mojo sauce.