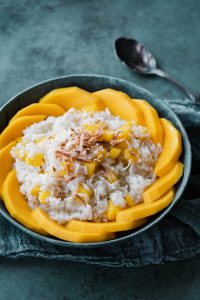 I got the most beautiful mangos this week and finally decided to try and make mango coconut rice. I don't know if technically this is just called mango coconut rice, or mango coconut rice pudding, but I do know I am so glad I made it and that it's delicious! I got some sticky rice at an Asian grocery store at the beginning of Spring and I wanted to use it in this. I also had some coconut cream on hand and I decided to toast some coconut for extra flavor and crunch. That was some good decision making on my part, it all came together in a beautiful treat and since I had so many good mangos, I sliced some fresh ones up and served together with the rice. I'm still thinking about how yummy that was and also thinking, why haven't I been eating sweet rice till now? I'm thinking of cinnamon raisin combo next. Yes, I said raisins. We love garlic and raisins in this family and I'm not apologizing for that 😀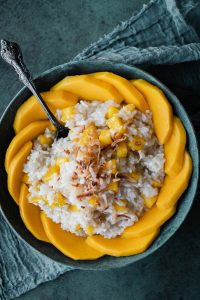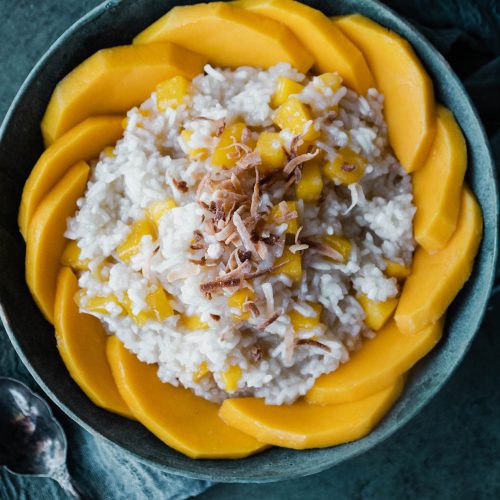 Mango Coconut Rice
Mango and coconut sweet rice with toasted coconut on top
Ingredients
2

cups

sticky rice

3

mangos

1

can

coconut cream

3 1/2-4

cups

water

1/4 tsp

ground ginger
Instructions
Soak the rice in a pot with 3 1/2 cups water for at least two hours.

Peel and slice two mangos in 1/2" chunks. Bring to boil then lower the heat all the way down and add coconut cream and ginger. Add Mangos and cook stirring occasionally for about 25 minutes adding another 1/2 cup water if needed. I wanted rice on the softer side so I used 4 cups.

I used one leftover mango to slice and serve on the side and finished it off with some toasted coconut. To toast the coconut I used some shredded coconut and toasted it on a non stick pan for maybe two minutes constantly stirring. As soon as it gets golden remove from heat and transfer into a bowl.
Notes
I was feeling all extra extra so I made condensed coconut milk. I just had one of those mini cans of coconut milk that I cooked until reduced and was very thick and syrupy, consistency of caramel and I topped each bowl with a tablespoon of that. No regrets.