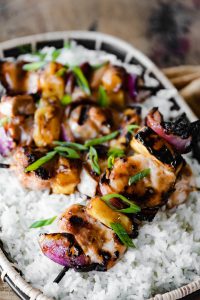 So here's the thing. I haven't made these skewers in a couple of years, I have no idea why honestly, we used to eat them often. So I made them because I wanted to put new photos on the blog and I figured since I am already making them, I will make enough for two dinners. They make for yummy leftovers. But there were no leftovers. My youngest one said ewww, like every night until he gets one of the three things he eats (almost) which in this case was plain rice with salt and pepper. I am so unappreciated. But the rest of us went to town. We literally ate all of them, I thought I was going to die at the end of the dinner and I couldn't believe we ate that giant amount of food but it was just addictive. It's all I have to say about that. Use caution.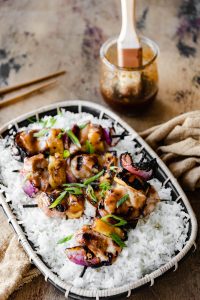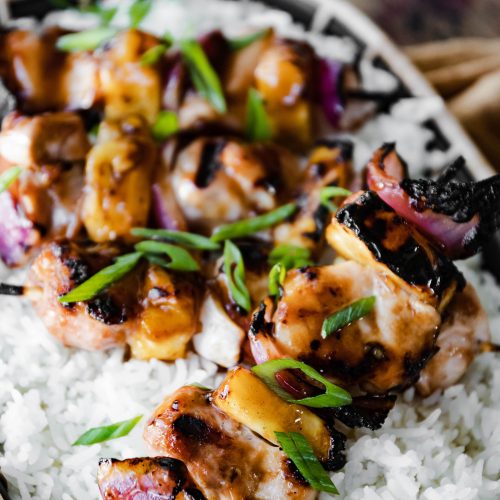 Teriyaki Pineapple Chicken Skewers
Ingredients
For Teriyaki sauce:
3/4

cup

soy sauce

2

tbsp

mirin

or rice vinegar

1

tbsp

canola oil

1/3

cup

brown sugar

packed

2

cloves

garlic

minced

2

tsp

fresh ginger

minced

2

tsp

cornstarch

1

tbsp

water
For the skewers:
6

skinless and boneless chicken thighs

1

large red onion

2/3-1

pineapple
Instructions
To make the sauce put all six of the first ingredients into a pot and cook until it starts reducing and thickening, mix cornstarch with a little water and turn it into a paste and add to the sauce. Cook for another 2-3 minutes then set aside.

Cut the chicken breast to about 1 1/2-2" pieces, do the same with onions and pineapple. If you are using wooden skewers make sure you put them in water for about 30 minutes so they don't burn on the grill. Alternate skewering chicken, onion and pineapple until you run out of the ingredients and then grill for 4-5 minutes on one side.

Turn the skewers and start basting with the Teriyaki sauce. Grill until chicken is done and once removed from the heat baste the skewers one more time. Serve the leftover sauce on the side, we like to put some on the rice. Enjoy!
Notes
Leftover Teriyaki sauce keeps for about ten days kept in a jar and refrigerated.