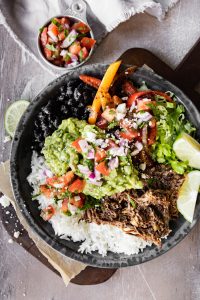 Bowls are one of my favorite types of meals. I love how versatile they can be and it's so fun and easy too. I love playing around with different dishes and combining them into bowls. One of the most popular ones out there are burrito style bowls and this is one of them. It is done with Beef Barbacoa that I make in my Instant pot and then I have an awesome protein for most of my week to play around with and make fun meals out off. What I don't use up in three or four days I freeze for easy dinner down the road. Most often it goes in tacos and salads and we are all very much ok with that! This bowl has rice, black beans for which I just recently posted a recipe here, fajita style onions and peppers, some lettuce, delicious guac and pico de gallo. A squeeze of lime and some cilantro takes it over the top, this meal could not be more delicious and the beef is definitely the star here and so easy to make! Can you tell I LOVE my instant pot? I use it multiple times a week, it changed the way I cook completely!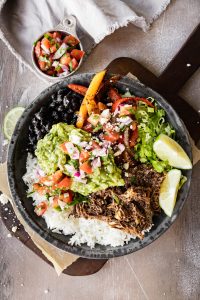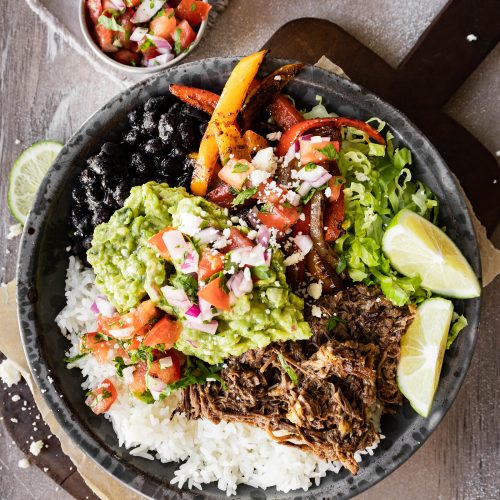 Beef Barbacoa Bowls
Beef Barbacoa bowls with black beans, rice and guacamole
Ingredients
For the Bowls:
lettuce

Beef Barbacoa, recipe bellow

gucamole

cooked white rice

pico de gallo

fajita veggies

black beans
Beef Barbacoa
3

lb

beef chuck

1

yellow onion, finely diced

3

chipotle peppers in adobo sauce, finely chopped

10

cloves

garlic, minced

3

limes, juiced

1

cup

orange juice

1

tbsp

cumin

2

tbsp

oregano

1/2

bunch

cilantro, finely chopped

2

bay leaves

salt and pepper

olive oil
For guacamole:
2

avocados

1

lime, juiced

2

tbsp

minced shallot or red onion

salt and pepper

1/4

cup

chopped cilantro
For fajita veggies:
olive oil

1

yellow onion

1

red pepper

1

yellow pepper

1/4

tsp

garlic powder

salt and pepper
Instructions
To make Beef Barbacoa
Pour some olive oil on the bottom of your instant pot and set it on saute. Brown the beef chuck well on all the sides then add all of the ingredients to instant pot and set it to manual high pressure for 1 1/2 hours. Make sure the vent is sealed.

After 1 1/2 hours release the pressure and shred the beef, mix with desired amount of sauce, I like to use most of it.
To make guacamole:
Half and pit the avocado, put it in a bowl and mix with rest of the ingredients leaving it as chunky as you like. I do not like it completely smooth but I don't like it with too large chunks either so I mash it with a fork until the consistency I like.
To make the Fajita veggies:
Slice the onions and peppers. Saute in olive oil for about 10 minutes on high heat so you can get some charred bits. Season with salt and pepper and a little bit of garlic powder.
To assemble the bowls:
On the bottom of the bowl put some lettuce, rice and black beans. Top with beef barbacoa and fajita veggies and finish off with some guacamole, pico de gallo and squeeze of fresh lime.