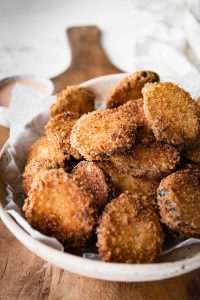 Fried zucchini is by far my favorite side to get when we go to certain fast food places and I actually make it home quite often. Usually I bake it in the oven, but every now and then I will fry it 'for real' and it's always such a treat. I have been absolutely loving this zucchini season, it is one of my favorite vegetables and I really go to town with it. I love it so many ways, there's always something yummy to do with zucchini. My favorite way to enjoy it this season has been straight off the grill, in my friend's Elena's zucchini bread, and like this. Fried and served with fry sauce. I made them a little special by adding Parmesan cheese into the bread crumb mixture. Yum. And fry sauce is just mayo and ketchup mixed with a squeeze of lemon juice and salt and pepper, in Utah we call it fry sauce. What has your favorite way to eat zucchini been?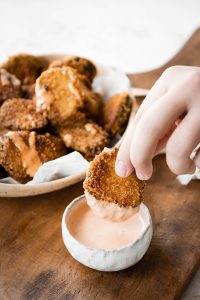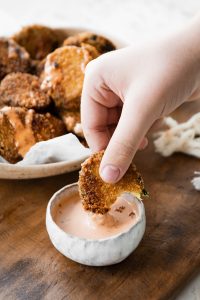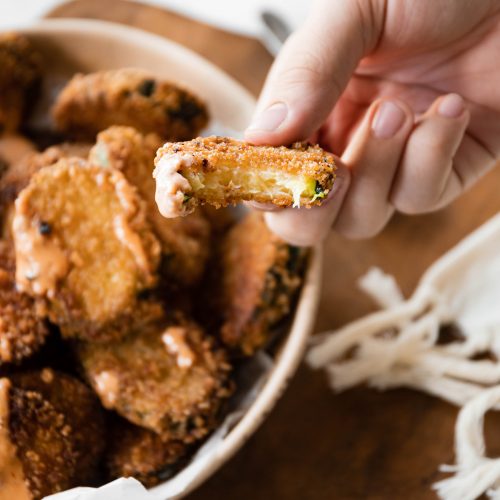 Fried Zucchini
Fried zucchini served with fry sauce
Ingredients
3

zucchini

1/2

cup

flour

2

eggs

splash of milk

1/4

cup

Parmesan cheese, grated

1/2

cup

plain bread crumbs

3/4

cup

panko bread crumbs

1

tsp

garlic powder

1/2

tsp

chili powder

canola oil for frying
Instructions
Slice zucchini in slices between 1/4 and 1/2 inch thick.

Prepare your dredging station. Get three separate deep plates or bowls and put flour with salt and pepper into one, egg (beaten) seasoned with salt and pepper and a splash of milk in another and Parmesan cheese, plain and panko bread crumbs, garlic and chili powder, salt and pepper in the last one.

Going through your little line start coating the zucchini with flour, then in the egg mixture and lastly in the bread crumbs mix.

Fry for couple of minutes on each side until deep golden brown.

Serve with fry sauce or your favorite choice of sauce.

To make the fry sauce mix 1/4 cup each of mayo and ketchup, juice from half a lemon and season with salt and pepper. Enjoy!