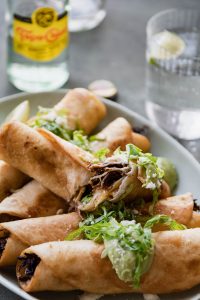 A few days ago I did a blog post on beef barbacoa bowls and I had some leftovers to use up so I made these Beef Barbacoa Flautas. They. Were. Incredible!!!
Seriously such a treat. Nothing against taquitos, I love them and generally always use corn tortillas for most of my dishes. I love the flavor, but sometimes it's good to just fry up a flour tortilla. It was a bit different from what I would usually do and they were so crispy, but also incredibly melt in your mouth good like only flour tortilla can be. They didn't outshine the beef barbacoa filling though, which is something that I hope you try and make because as you can see, it is so versatile and uber flavorful. Big bang for your buck. I still have some leftover and I'm hoping for both quesadillas and tacos. As for these flautas, I topped them very simply with some shredded lettuce, avocado crema and hot sauce. Squeeze of fresh lime juice over theme is always a good idea. So good guys, so good!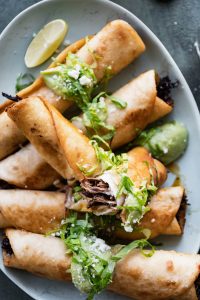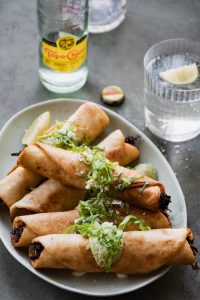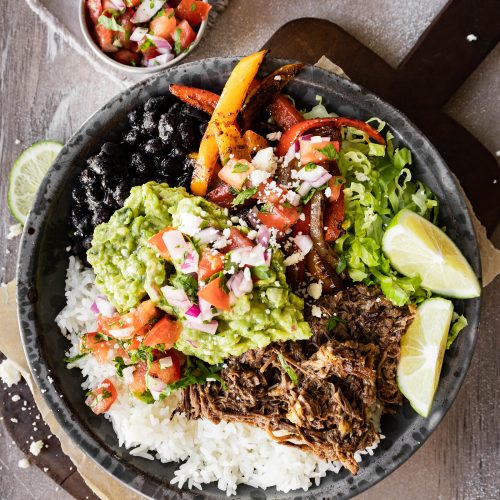 Beef Barbacoa Bowls
Beef Barbacoa bowls with black beans, rice and guacamole
Ingredients
For the Bowls:
lettuce

Beef Barbacoa, recipe bellow

gucamole

cooked white rice

pico de gallo

fajita veggies

black beans
Beef Barbacoa
3

lb

beef chuck

1

yellow onion, finely diced

3

chipotle peppers in adobo sauce, finely chopped

10

cloves

garlic, minced

3

limes, juiced

1

cup

orange juice

1

tbsp

cumin

2

tbsp

oregano

1/2

bunch

cilantro, finely chopped

2

bay leaves

salt and pepper

olive oil
For guacamole:
2

avocados

1

lime, juiced

2

tbsp

minced shallot or red onion

salt and pepper

1/4

cup

chopped cilantro
For fajita veggies:
olive oil

1

yellow onion

1

red pepper

1

yellow pepper

1/4

tsp

garlic powder

salt and pepper
Instructions
To make Beef Barbacoa
Pour some olive oil on the bottom of your instant pot and set it on saute. Brown the beef chuck well on all the sides then add all of the ingredients to instant pot and set it to manual high pressure for 1 1/2 hours. Make sure the vent is sealed.

After 1 1/2 hours release the pressure and shred the beef, mix with desired amount of sauce, I like to use most of it.
To make guacamole:
Half and pit the avocado, put it in a bowl and mix with rest of the ingredients leaving it as chunky as you like. I do not like it completely smooth but I don't like it with too large chunks either so I mash it with a fork until the consistency I like.
To make the Fajita veggies:
Slice the onions and peppers. Saute in olive oil for about 10 minutes on high heat so you can get some charred bits. Season with salt and pepper and a little bit of garlic powder.
To assemble the bowls:
On the bottom of the bowl put some lettuce, rice and black beans. Top with beef barbacoa and fajita veggies and finish off with some guacamole, pico de gallo and squeeze of fresh lime.