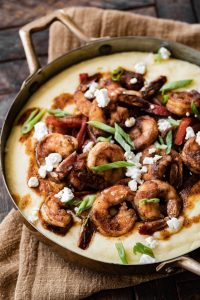 So my admission is that I've never had authentic shrimp and grits. I've tried twists on shrimp and grits in restaurants, though and I knew what I liked so I started making my own twist on them, and even if not most authentic, they sure are tasty. I made my shrimp with goat polenta and let me tell you, it's so good. I love goat cheese and combined with the polenta it makes for the most smooth and creamy texture and complements the shrimp beautifully. I also love my veggies so I sauted some peppers and combined them with the shrimp and I have zero regrets about that. So these are Daniela's shrimp and grits and I hope you love them as much as I do!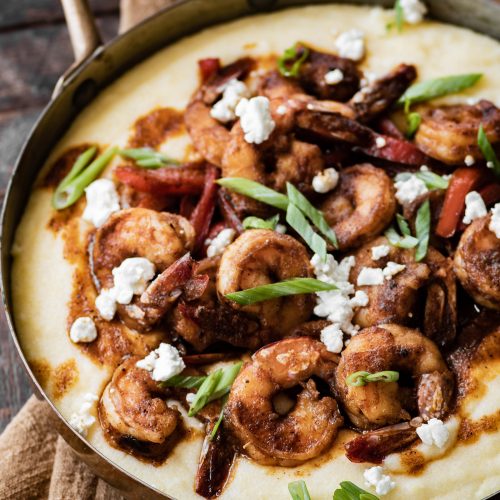 Shrimp and Grits
Shrimp with peppers over creamy goat cheese polenta
Ingredients
1 1/2

lbs

shrimp, cleaned

1

red bell pepper

2

tsp

garlic powder

2

tsp

onion powder

1

tsp

smoked paprika

2

tsp

chipotle powder

3/4

cup

vegetable stock

olive oil

1

cup

polenta

4

cups

water

4

oz

goat cheese

4

tbsp

butter

salt and pepper

green onion for garnish
Instructions
Slice the red bell pepper and saute it in a tablespoon of olive oil for 4-5 minutes then set aside.

Boil 4 cups of water and cook polenta in it for 3 to 4 minutes. Be careful because polenta bubbles a lot and is hot as hell.

Turn off the heat and mix in the goat cheese and 2 tablespoons of butter, season with salt and pepper.

In the same pan you cooked the peppers add some olive oil and cook the shrimp for 1-2 minutes. Add back the peppers, all of the spices and vegetable stock. I used about 3/4 cups. Cook for a few more minutes until the sauce starts to thicken then turn off the heat and add 2 tablespoons butter.

Spoon some polenta in the bowl and top with shrimp. Garnish with thinly sliced green onions.