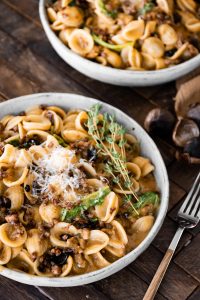 I often make pumpkin pasta during the season and I rarely (never) write it down. I just throw something together, however the mood strikes. Sometimes I roast cubed pumpkin and toss it with pasta, sometimes I use the pumpkin puree and go for a creamier version, but we always enjoy it and I decided to write down the recipe this last time I made one of my versions so I can share it with you. I've been wanting to use some black garlic my neighbor brought me and thought it would be so great in this, I wasn't wrong!! It is an excellent combination with pumpkin and sausage and kale just brings it a bit more bite and texture. Maybe makes you forget how much heavy cream you just used. Lick your fingers good meal in under 30 minutes!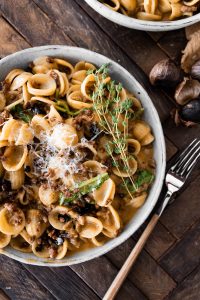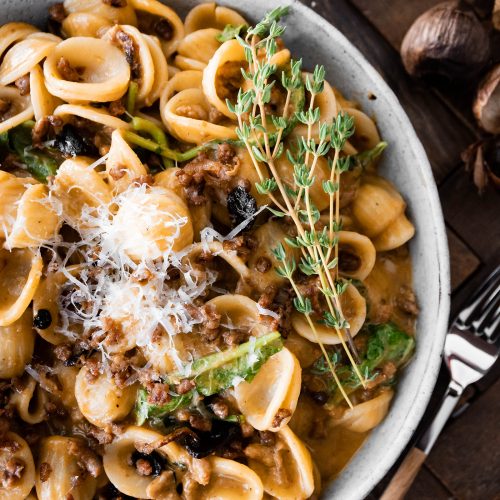 Pumpkin, Sausage, Kale and Black Garlic Orecchiette
Creamy pumpkin pasta with sweet Italian sausage, kale and black garlic
Ingredients
1

lb

Orecchiete pasta

1

lb

sweet Italian sausage

1

large shallot

olive oil

2-3

bulbs

black garlic

4

cups

kale

1

cup

pumpkin

1

cup

heavy cream

1/2

cup

freshly grated Parmesan cheese

1

tbsp

fresh thyme

generous pinch of red chili pepper flakes

salt and pepper

reserved pasta water
Instructions
Put a large pot of water on high heat until it boils then add two generous tablespoons of salt to it. Add orecchiette to the water.

Finely slice the shallot and thinly slice the garlic. In a pan cook the shallot in olive oil then add the sausage and cook until browned. Add red pepper chili flakes, black garlic, thyme and stir for a couple of minutes. Add the pumpkin and the heavy cream and half the Parmesan cheese. Add kale and mix well.

Cook the orecchiette al dente. Before draining it reserve about 1/2 cup of the pasta water.

Add orecchiette to the pumpkin sauce and mix well adding some pasta water as you go.

Serve with extra sprinkle of Parmesan cheese an enjoy!