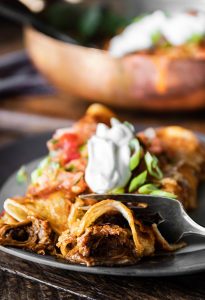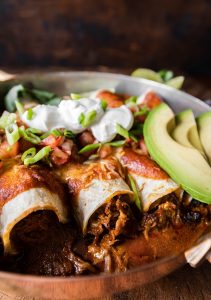 These enchiladas officially ruined all other enchiladas for me. First of all, I love pork. And second of all, if you've never made your own enchilada sauce, you are majorly missing out. O M G!!! I don't think I'll ever buy the canned stuff again, it makes such an unbelievable difference that the extra little bit of time is absolutely worth it. I was kind of scared to cook with dry chiles and make my own sauces because I didn't grow up with those products, I never cooked with them before, but it was seriously so easy I feel silly waiting for so long to make my own. If you've never done it please try. If you've been doing it all this time…jokes on me!
The pork for these enchiladas is made in the Instant Pot, yay. I make my life easier for me whenever I can. I make it with a three pound pork shoulder and I use the leftover meat in bowls and other dishes like quesadillas etc. during the week and I also like to freeze some for an easy dinner down the road. Feel free to half the recipe though if you are cooking just for this dish.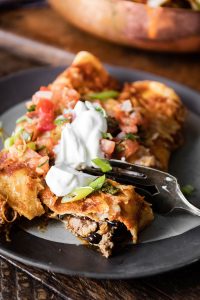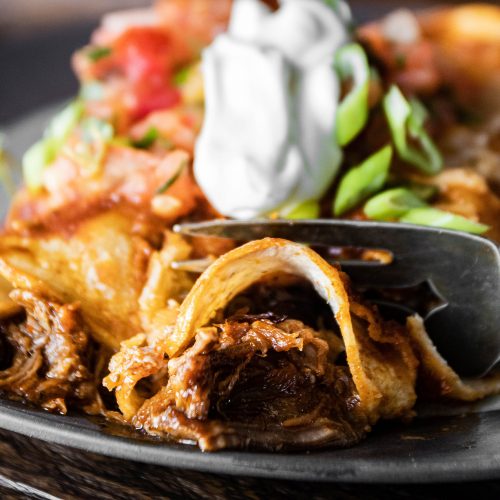 Pork and Black Bean Enchiladas
Pork and bean enchiladas in homemade sauce with all the toppings
Ingredients
For the Pork:
3

lbs

pork shoulder

olive oil

1

large yellow onion

1

orange, juiced

2

limes, juiced

5

cloves

garlic

3

bay

leaves

2

tbsp

oregano

1

tbsp

cumin

salt and pepper
For the enchilada sauce:
5

dry chile New Mexico pods

reserved pork broth

1

tsp

cumin

1

tsp

chili powder

1

tsp

garlic powder

1

tsp

onion powder

1

tbsp

butter

1

tbsp

flour
To make enchiladas:
shredded pork

2

cups

enchilada sauce

1 1/2

cup

Mexican style shredded cheese

1

can

black beans, rinsed

8

corn tortillas

Mexicana crema

pico de gallo

1

avocado

green onions, cilantro and lime for garnish
Instructions
To make the pork:
Brown the pork shoulder in your instant pot with some olive oil on saute setting, then add diced onions, juiced orange and limes, minced garlic, bay leaves, oregano, cumin and salt and pepper. Close the lid and seal the went. Cook on high pressure for one and a half hour.

Once the pork is cooked, carefully release pressure and take out the pork, reserving its liquid. Shred the pork and set it aside while you finish the enchilada sauce.
To make the enchilada sauce:
Toast the chile pods for a few minutes in a pan then transfer into a sauce pot together with reserved pork broth, cumin, chili powder and garlic and onion powder. Cook for 20 minutes then blend well in a blender or a food processor. In a small bowl mix the flour with few spoons of the sauce and add it to the pot. Cook while stirring for another ten minutes and then add the butter.

Mix one cup of the enchilada sauce with the shredded pork.
To make the enchiladas:
Preheat the oven to 400F. Put just a little bit of enchilada sauce on the bottom of your baking dish and spread evenly. Warm up the corn tortillas, then fill each one with about 1/4 cup shredded pork, some cheese and a few tablespoons of black beans. Roll them and put them in your baking dish.

Pour the remainder of thew enchilada sauce over all of the tortillas and sprinkle with rest of the cheese.

Bake for about 15 minutes until cheese is all melted. Top with pico de gallo, avocado, crema and some cilantro, green onions and fresh lime juice.