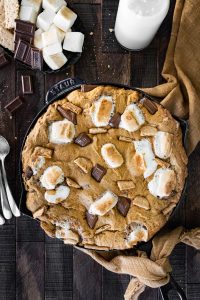 Some days I earn more brownie points with my kids than others and the day I made this Pumpkin Smores Cookie Skillet I earned A LOT of brownie points. Or should that be cookie skillet points? Lolololz I am so lame with my jokes. Just ignore me. But do not ignore this recipe, it's a stroke of genius! I've wanted to make a cookie skillet dessert with ice cream on top for months now but you better believe it if I was going to make any kind of cookie close to Halloween it was going to be Harry Potter cookies (done) or pumpkin ones. Or Harry Potter pumpkin cookies! I'm writing that one down as we speak, or as I type. And I am still chuckling at myself…it's been a week guys. A month. A YEAR. 2020. Am I right? Well this skillet is for sure, absolutely and totally going to bring some pumpkin smore joy into 2020. The speed that my boys (and I'm including my oldest 44 year old one in here too) dug into this, I literally barely got any shots in before they ate too much and it just looked like a mess. Try explaining to an unleashed seven year old that now he has to stop eating gooey, chocolatey cookie with more cookie in it and melty ice cream on top dessert and yeah…good luck with that. But guess what. There was a tiny bit left, it's a big skillet guys, and I saved it up for them and gave it to them next morning for breakfast, ice cream on top included! SO MUCH COOKIE SKILET POINTS. SO MUCH!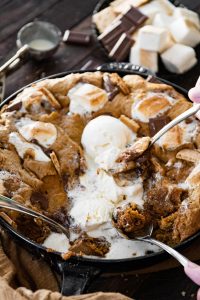 Pumpkin Smores Cookie Skillet
Giant pumpkin and chocolate cookie skillet with large bits of graham crackers and marshmallows baked in, topped with vanilla ice cream
Equipment
11" or 12" oven proof skillet
Ingredients
2 1/2

cup

all purpose flour

1/2

tsp

baking soda

1/4

tsp

salt

1

cup

butter, softened

1

cup

sugar

2

large eggs

3/4

cup

brown sugar

2

tsp

vanilla extract

1

can

pumpkin

2

tsp

cinnamon

3

tsp

pumpkin spice

1

cup

chocolate, torn into large chunks

16

marshmallows

or more if you really like them

3

sheets

of graham cracker cookies
Instructions
Preheat the oven to 350 degrees.

Beat sugars with softened butter for 4 minutes. Add eggs and mix well. Add the pumpkin and vanilla extract and mix for 30 seconds.

In a separate bowl combine the flour, baking soda, salt, cinnamon and pumpkin spice. Add it to the batter and mix just until combined.

Roughly chop the chocolate and split 10 marshmallows in half. Break down the graham crackers in quarters. Add half of the chocolate and the cut up marshmallows to the batter and mix by hand.

Spray an 11" or 12" oven safe skillet with cooking spray and transfer the batter in it. Stud the batter with graham crackers, then remaining chocolate and lastly 6 (or more) whole marshmallows.

Bake for about 35-40 minutes, depending how gooey you want the center. I wanted it still a bit gooey so I took it out at 35 minutes.

Let cool for at least ten minutes, then top with ice cream and serve with lots of spoons.

If serving guests you can spoon the cookie in bowls and then top with ice cream.