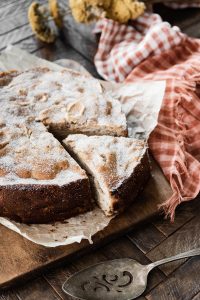 Apple desserts are and have always been some of my favorite ones. I have a soft spot for them, probably because my mom made them often and we have a lot of yummy apple cakes and sweets in Croatia. I've wanted to make an apple filled cake for a while and honestly, my kids were begging for it. I've made something similar a few times before but now I made sure to write everything down properly so I can share it. I think what makes this apple spice cake so yummy is how much apples it has – lots- and that they are sliced pretty thinly. It makes for a delicious moist cake and it's honestly perfect any time of the year, but these spices definitely make it more seasonal. I hope you try and make it because I am sure you will love it as much as we do!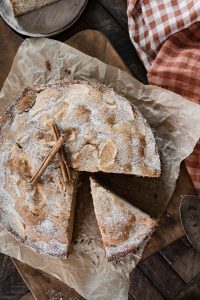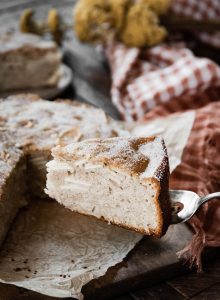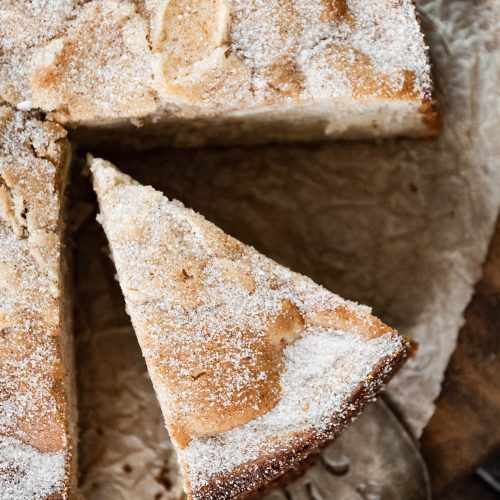 Apple Spice Cake
Delicious and moist spice cake filled with apples
Ingredients
5

granny smith apples

2

cups

flour + 2 tablespoons

3/4

cups

butter, room temperature

3

large eggs

1 1/2

tsp

baking powder

1

plain Greek yogurt

1 1/2

cup

sugar

1

tsp

vanilla extract

1

tsp

salt

2

tsp

cinnamon

1/2

tsp

ginger

1/4

tsp

nutmeg

1

pinch

cloves
Instructions
Preheat the oven to 350 degrees.

Beat the sugar and the butter for a few minutes until light and fluffy. Add eggs one at a time mixing well between each addition and scraping the bowl as you go. Add vanilla extract and mix for a few seconds before adding half the flour mixture. Mix for ten seconds then add the yogurt and mix that in. Add the rest of the flour and mix only to combine.

Peal and core the apples then cut into quarters. Slice each quarter of the apple very thinly and then add to the batter, mix and pour into a well greased springform pan.

Bake 60-65 minutes or until an inserted toothpick comes out clean or with just a few crumbs on. Let cool in the pan for 10 minutes before transferring onto a cooling rack. Sprinkle with mixed sugar and cinnamon. Serve at room temperature.