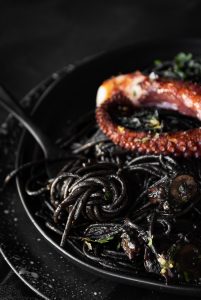 So here is how this meal came together. I had frozen octopus that I needed to use and I was deciding what I wanted to use it for, and octopus salad or for the pasta. Pasta always wins in my book and since I had the squid ink pasta home, as well as a small jar of squid ink, I though it was time for a little taste of home. This isn't the most traditional Croatian dish, even though you can definitely find in some restaurants, it is just that squid ink risottos are what we are much better known for, we call it the black risotto and it happens to be one of my most favorite dishes ever. But as I said, I am a pasta girl and I already had squid ink pasta home too, it was just begging to be made.
I was feeling especially lucky because I had a brand new bottle of good Croatian olive oil and nothing makes me as happy as that little taste of home. I started cooking, excited and calm, the smells were starting to fill the kitchen , I was so happy I bought the cooked octopus tentacles and froze them a couple of months before, I knew it was going to be good. But I blew my own mind with this one. When I took that first bite I quite literally said out loud Oh My God, I think this might be the best pasta I EVER ate. Maybe I just missed those flavors so much and combined with the amazing olive oil it was just so good in that moment…but it is seriously some of the best pasta I've ever had, and I've had a lot of pasta.
I know these ingredients are not common or easily available. But the pasta itself doesn't have to be black squid ink pasta, and now days you can order the squid ink from amazon! Octopus might be a bit harder to pull off depending where you are, but maybe you can find some other seafood like calamari or even a seafood mix and give this a try. It is absolutely worth it and incredibly easy to make once you have all the ingredients!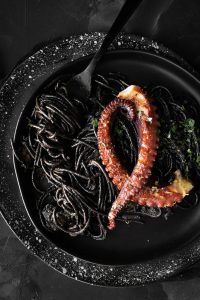 Squid Ink Pasta with Octopus
Ingredients
1

lb

black squid ink spaghetti

12

oz

octopus tentacles

4

tbsp

olive oil

1

shallot

4

cloves

garlic

1

cup

red wine

2

tbsp

tomato paste concentrate

1

tbsp

squid ink

1/4

cup

minced parsley

reserved pasta water

salt and freshly ground black pepper
Instructions
I used pre-cooked octopus tentacles. Slice the tentacles in bite size pieces. Thinly slice the shallot and mince the garlic. Mince the parsley and set aside.

Boil the pasta in a large pot of salty water (I put 2-3 big tablespoons of salt in the water) according to the packaging. Make sure you reserve about a cup of pasta water before draining the pasta.

While the pasta is boiling, in a large pan saute the onion in the olive oil. After a few minutes add the minced garlic and octopus to the pan. Season with salt and pepper and add the tomato paste and the squid ink. Cook for a couple of minutes then add the red wine and cook until it reduces more than half. Add in the pasta, the parsley and about half a cup of reserved pasta water. Mix well and see if more water is needed. Check for seasoning and serve with extra olive oil on top.
Notes
I had some extra cooked octopus tentacles that I grilled on a grill pan and simply seasoned with good olive oil and salt and pepper and I placed it on top of each bowl of pasta.