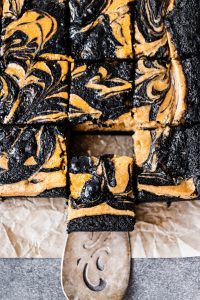 If our family had to choose one single favorite fall dessert it would without a doubt be this Chocolate Pumpkin Cheesecake Brownies. I got the recipe from Pass the Sushi blog almost ten years ago and other than a tiny few changes, we've been making this recipe every fall ever since. I don't even need a recipe anymore how many times I've made it and I've yet to find someone who didn't love these. They are very rich and moist, chocolate part is just awesome, so much in fact, that I use it for many other chocolate recipes, with adjustment here or there (minus the cinnamon and plus espresso powder or something like that), and pumpkin cheesecake is, well, what pumpkin cheesecakes are. Amazingly moist, flavorful and creamy, as far as I'm concerned, pumpkin at its best. Together, they just rock.
When I still used to work in school I'd bring some to my colleagues and I loved hearing how much they enjoyed them. The only downside of these is that we literally can't make them last till the next day, and they are not exactly a light snack! I hope you try and make them and you love them as much as we do!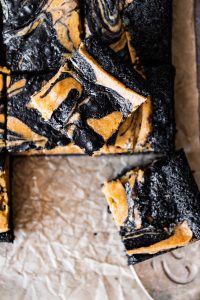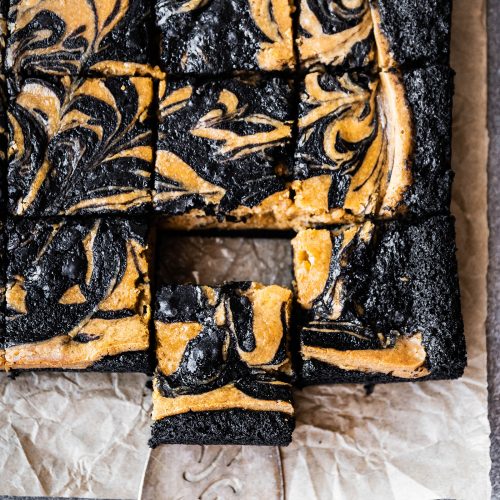 Chocolate Pumpkin Cheesecake Brownies
Ingredients
For the brownies:
3/4

cup

butter, melted

1

cup

sugar

2

eggs

1/2

cup

all purpose flour

1

tsp

Vanilla extract

1/2

cup

unsweetened dark Dutch cocoa powder

1/4

tsp

salt

1/2

tsp

cinnamon
For the pumpkin cheesecake batter:
8

oz

cream cheese

1

egg

1/3

cup

sugar

2

tbsp

flour

1/2

cup

pumpkin puree

1/2

tsp

vanilla extract

1/2

tsp

cinnamon

1/4

tsp

ground ginger

1/4

tsp

ground cloves

1

tsp

pumpkin spice
Instructions
Preheat oven to 350F. Grease an 8×8″ or an 11×7″ baking pan.

Beat together melted butter, sugar, and vanilla, then beat in eggs one at a time. Combine dry ingredients in small bowl, and then gradually stir into butter mixture by hand.

In another bowl, beat cream cheese and sugar until smooth. Beat in remainder of ingredients until smooth.

Spread about 2/3 of chocolate batter into prepared pan. Spread the pumpkin batter over top, distributing evenly. Drop the remaining brownie batter over cheesecake batter. To make the swirls, run a butter knife back and forth through the pan.

Bake for 35-40 minutes, or until a toothpick inserted in the center comes out clean.Cool completely and chill before cutting and serving.