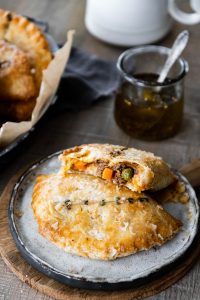 I was gifted a new Instant Pot with the Air Fryer lid attachment and basket and I wanted to try it out as soon as I could. I was thinking what to make and I knew I wanted it to be some kind of an empanada or a hand held pie. I considered what could I fill it with and seriously, the possibilities overwhelmed me at the first thought. So first thing I did was decide it was going to be savory. That helped some, but still I was thinking of so many ideas. I tried focusing on what I had and I knew I had gotten some ground lamb a few weeks ago to make Shepherd's pie, but never gotten around to it and it went into the freezer. So there it was, a perfect opportunity, I was going to do a Shepherd's Pie hand Pies! I made sure I had everything I need, I had frozen peas and carrots because I always have that on hand since it's the main ingredient in one of my favorite soups, and I had everything I needed for mashed potatoes so it was a go! I have a small mold for empanadas/hand pies and I went with my go to pie dough. These were just too much fun to make, and the Instant Pot Air Fryer cooked them up so beautifully in just ten minutes, I was beyond happy and impressed! I don't want to bash any specific brands on here, so I'll just say that my old air fryer I had and used twice in 3 years never worked nearly as good. It's no secret I am a huge Instant Pot fan so I am so happy that I can totally recommend it! The only thing with this specific dish is that because of the size and type of the food I was cooking, I had to do it two at a time so it went in several batches. I did not mind at all because I cooked them as I made them so while two were cooking I was making the next two etc. This wouldn't be an issue at all with some other foods that wouldn't stick together like if I had put dough on top of the dough.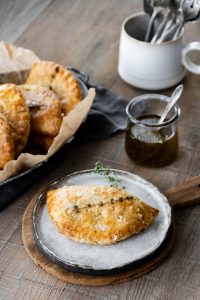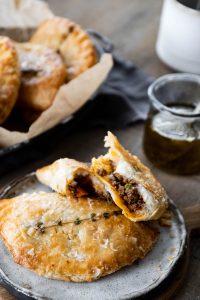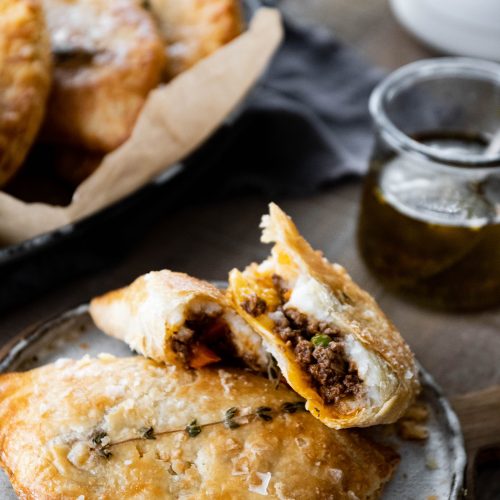 Shepherd's Pie Hand Pies
Hand held pies stuffed with mashed potatoes, lamb, veggies and cheddar cheese
Ingredients
For the dough:
1 1/2

cup

all purpose flour

2

sticks

butter

cubed and frozen

1

tsp

salt

1/4

cup

water

ice cold
For the filling:
1

cup

mashed potatoes

leftover or instant work great to make it easier

1

shallot

4

cloves

garlic

12

oz

ground lamb

or beef

1

tbsp

olive oil

1

tbsp

fresh thyme, minced

1/2

tbsp

fresh rosemary, minced

2

tbsp

tomato paste

1

tbsp

Worcestershire sauce

1

tbsp

flour

3/4

cup

beef broth

3/4

cup

frozen peas and carrots

salt and pepper

1/2-3/4

cup

fresh grated mild cheddar cheese

1

egg

for egg-wash

flaky sea salt
Instructions
For the dough:
Cube your butter and put it in the freezer for 20-30 minutes. In a food processor pulse flour with salt and then add the butter. Pulse until butter is in about pea size pieces then start adding the water and pulse until the dough starts clumping together. Transfer to a lightly floured surface and form into a disk. Wrap it in a plastic wrap and put into the fridge for about 30 minutes.
For the filling:
While the dough is resting in the fridge finely chop the shallots and saute them in some olive oil for 4-5 minutes. Add minced garlic and cook for about 30 seconds and then add the ground lamb (or beef). Start browning the lamb and also add the thyme and rosemary and season with salt and pepper. Cook for about five minutes then add the tomato paste and Worcestershire sauce and cook for a minute. Add the flour and cook for another minute, then add the broth and the vegetables. Cook for 3-4 minutes then turn of the heat and set aside.

Get your mashed potatoes ready. I used instant mashed potatoes for this, no shame in my game. There is a time and place for everything, and this made it so quick and easy since there is plenty of work with other things in this dish! Leftover mashed potatoes would work great in this as well!

Once you have everything lined up and ready to go, we are going to roll the dough to about 1/8"-1/4" thick. Kind of somewhere in between. Use any kind of shape you want. Circles, half circles like me (I have a mold) or rectangles, and you can play around with sizes too. Mine were a good size as one for appetizer or two for a meal.

Cut your shapes and then put about 2 tablespoons of mashed potatoes on the middle, add some lamb filling, about 2-3 tablespoons, depending on the size of your dough and then top with cheddar. Cover with another piece of dough and using a fork and pressing down seal all the edges around. You want to make them full but make sure you'll still be able to close them without the filling seeping out.

Brush each little pie with egg wash and sprinkle liberally with flaky sea salt.

Preheat the air fryer to 400 degrees and cook for 10 minutes turning them once after five minutes. Enjoy!