Happy Halloween!! I hope you have something fun planned for today and that you will have lots of yummy food. Need a suggestion? Here is my basic but super delicious chili recipe. I make it very often and most times I don't follow a recipe at all and I just eyeball what I have. Like for many other recipes, I love making my chili in the instant pot, it makes it just quick and easy! In general, I love using different beans, different meats and I like to add all sorts of stuff in chili, but this is the chili that I make most often and the one we have every year for Halloween. It's become our tradition to come home from trick or treating to a big warm bowl of this chili and corn bread. We always get so cold walking around with our boys and it's a perfect dinner. Not to say how easy it is to cook it in advance, so I can go out without worrying if dinner is being made. This year we are staying home but we are still having our chili and corn bread, with lots of treats on the side to make up for not going out and getting all the candy! Even though, between you and me, there will be plenty of candy involved! Now let's get to this chili recipe.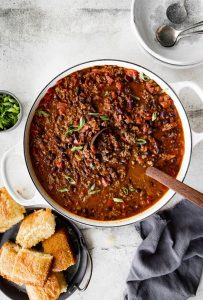 Beef Chili
Beef Chili with peppers, beans and a little bit of chocolate for little somethin somethin!
Ingredients
1

large yellow onion

1 1/2

lbs

ground beef

1

can

fire roasted tomatoes

larger can or 2 smaller ones

2

cans

black beans

1

can

kidney beans

1

large red bell pepper

5

cloves

garlic, minced

1

tbsp

onion powder

1

tbsp

garlic powder

2

tbsp

cumin

2

tbsp

chili powder

1

tbsp

paprika

1

cup

red wine

3

cups

beef broth

0.5

oz

dark chocolate

olive oil
Instructions
I use Instant Pot to make my chili, it is just easier and a bit quicker for me. You can easily do this on the stove top and I will post instructions for both.

Dice the onion and the bell pepper. Mince the garlic. Heat up some olive oil on the bottom of your instant pot or a large pot on the stove top and saute the onions and peppers for 4-5 minutes. Add the garlic and beef and start browning it. After another 4-5 minutes add all of the other ingredients except the chocolate. If using instant pot, put the lid on and seal the vent, set to cook on high pressure for 35 minutes. Once done, release the pressure and mix in the chocolate and it is ready to serve.

If cooking on the stove top cook on medium low heat for about and hour, adding some water as needed. Towards the end add the chocolate and cook for another 5 minutes.

Some of our favorite toppings are: shredded cheese, crema, tortilla strips, green beans, cilantro and avocado!