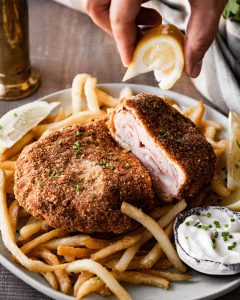 I don't make this dish too often, but my kiddos ask for it all the time. I will admit it's easier to just fry up some chicken or regular pork schnitzels, now those I do often. But stuffing them takes just a bit more fumbling and time. It's so ridiculously good though. My kids would know. I remember loving this always as well, however, I'd most often get it when we'd go out to eat in Croatia because my mom also made it only once or twice a year. I miss being little and going out to eat. Beside this, my favorite thing to get was file mignon in creamy mushroom sauce and fries, or if we were in a fish restaurant I'd always get scampi or langoustines. The difference between scampi (langoustine) and prawns (shrimp) is that the scampi belong to the lobster family and prawns to the shrimp family. I find them sweeter and just so much tastier. I feel like I hit the jackpot when I am able to find them here in Utah. But that's another post and I completely went off the subject here, reminiscing about my childhood restaurant outings. To get back to this stuffed pork schnitzel, in Croatia it is called simply Zagrebacki, meaning Zagreb schnitzel. We stuff it with cheese and ham and it's most often served with fries, home I like to also serve a simple vinegar based coleslaw on the side. In Croatia we love our salads along with our meals, not as an appetizer. This dish is truly a treat and I hope you give it a try even if it has a few extra steps. Once you bite into it, you forget all the work!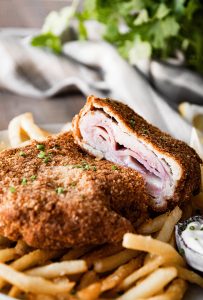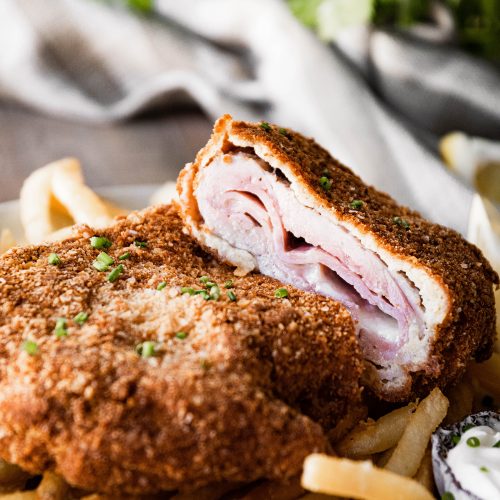 Stuffed Pork Schnitzel
Pork schnitzel stuffed with ham and cheese
Ingredients
4

pork shoulder steaks

at least 1/2" thick

4

slices ham

4

slices Munster cheese

2

eggs

2

tbsp

milk

1

cup

flour

2

cups

plain bread crumbs

1/4

tsp

garlic powder

salt and pepper

canola oil for frying
Instructions
Using a meat mallet or a rolling pin pound the meat until pretty thin, less than 1/4" thick. Be careful not to pound it to the point where it is falling apart. Pounding the meat will make the meat easier to stuff and fry and will make it much more tender, don't skip this step. I like to put some plastic wrap over the meat to prevent any flying bits and for easier clean up later.

Put a slice of ham and cheese on half of each piece of meat then overlap with the other half of meat and kind of tuck everything securely in and use toothpicks to further secure everything in so it doesn't open and leak out during the frying. Just be very careful later to remove all the toothpicks.

Prepare your dredging station. Beat the eggs with some salt and pepper and couple of tablespoons of milk. In another shallow bowl season the flour well with salt and pepper and finally in a third shallow bowl season the bread crumbs with garlic powder, salt and pepper.

The process is that you will first dip and cover the pork well in flour, then it will go into the eggs and after that into bread crumbs. I then like to take it back to the eggs and one more time into the bread crumbs. I don't always do this when frying, but since this is stuffed with cheese, I want to give it a bit thicker breading so nothing leaks out. If you are low on the egg mix just add another one in with a splash of milk and a bit more of salt and pepper.

Once you have all the pork breaded, carefully lower into the oil and fry until golden brown, about 6-8 minutes on each side. Transfer on a cooling rack for just a few minutes before serving. If you can, take toothpicks out before servings it, or make sure you pay attention to them while eating. This is the only part that makes me nervous when serving it to my boys so I make sure I get them out for them if I can, but if you are serving it to guests I'd just give them a heads up.