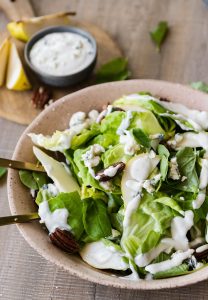 There is this local restaurant here in SLC, Taqueria 27, and I haven't been now almost for a year, but you can guess, they have great tacos. Interestingly, my favorite item on the menu is actually not a taco, but their pear and gorgonzola salad. I always get it when I go and I've started making it at home too because I love it so much. Gorgonzola has been one of my favorite foods ever since I was a kid. My dad used to make these gorgonzola tortellini that were truly amazing, and yes I'll post them soon, but it just made me love gorgonzola so much and I use it a lot, more than Blue cheese for sure, even though I love both.
Gorgonzola is in this salad both crumbled and part of the dressing, so you truly need to love it, it packs a punch and I'm here for it! The ingredients are super simple and the extra dressing you have leftover from this salad you can store in the fridge for a week and use on more salads. Or dip some french fries in it, to die for!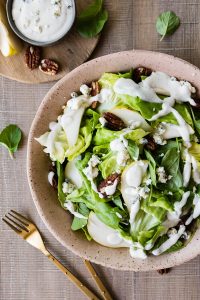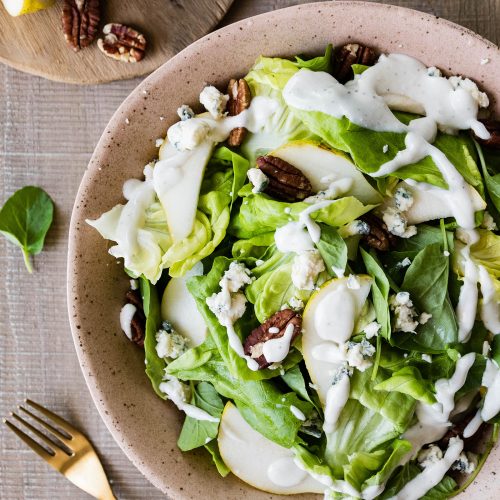 Pear and Gorgonzola Salad
Pear and Gorgonzola salad with toasted pecans
Ingredients
1

head

butter lettuce

1/2

cup

toasted pecans

2

pears, sliced

1/3

cup

crumbled Gorgonzola cheese
For the dressing:
1/2

cup

Mayo light

1

cup

low fat buttermilk

4

oz

crumbled Gorgonzola cheese

2

cloves

garlic, minced

1

tbsp

lemon juice

salt and pepper
Instructions
To make the dressing, put all of the ingredients into a blender and blend for 10-15 seconds.

Clean and chop the lettuce. Slice the pears. Toast the pecans in a pan for 6-8 minutes and let cool.

Arrange the lettuce and pears and toss the pecans and Gorgonzola cheese on. Top with the dressing and enjoy!