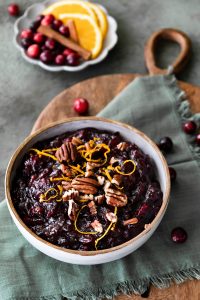 My first encounter with cranberry sauce 16 years ago was not so good. It was this red jiggly jello-ish thing from a can, and an idea of eating a fruit jiggly something with a turkey and all together otherwise savory dish was pretty gross. A totally new concept for my mainly Croatian palette.
I ate one bite to please my future husband (day after this Thanksgiving we eloped to Vegas!) and I didn't like him much at all in that moment. You see, he likes to make me try things I don't like. Over and over again. Like beer. I hate beer. I hate everything about it. And he always wants me to take just a sip. Why??? The worst is that calamata beer. It has tomato juice and clam juice mixed with beer. I hate all of those on its own, why in the world would I want to drink it mixed together? Why would anyone???? When I moved here he thought it would be funny to give me a full spoon of wasabi to try, and I did. You can imagine how bad that sucked. Luckily, he didn't traumatize me and I adore wasabi now, but all I will say about it is that I got him back, and I got him back good.
Oh well. Back to the sauce. After another year or two, I was more used to sweet and savory combinations and I decided to try making my own sauce. The canned stuff just wasn't working. And I am glad I tried making my own because since then I LOVE cranberry sauce and fruity stuff with meat, and that was also the Thanksgiving where I fully embraced yams! They were weirding me out that first Thanksgiving. Like what even is a sweet potato?! Potatoes aren't meant to be sweet!?! I LOVE them now and the rest is history…I was even eating maple syrup and peanut butter within months, which I thought was the grossest food ever when I moved here. That and BBQ sauce. Yes, I love BBQ sauce now. I just needed some time guys, but I fully embraced American food and Thanksgiving, and it is by far my favorite holiday now. Btw, this cranberry sauce slathered on some crackers with Brie cheese? Heaven!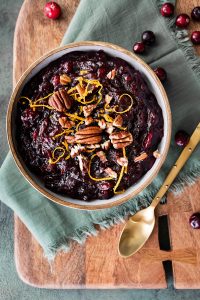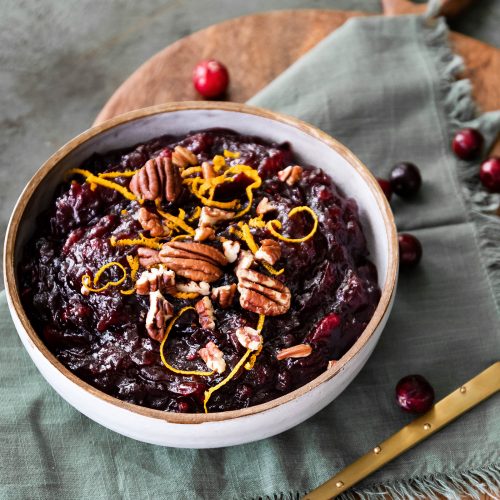 Cranberry Sauce
Easy and delicious cranberry orange sauce
Ingredients
6

cups

cranberries

1 1/2

cups

sugar

2

oranges, juice and zest

1/2

tsp

ground ginger

1/2

cup

chopped toasted pecans

optional
Instructions
Put cranberries with sugar in a pot and add the orange zest, juice and ginger. Cranberries will start to pop about 10 minutes in and you should keep cooking and stirring until it slightly thickens for about 5 more minutes. At this point if you like a smooth sauce you can use your immersion blender, I don't think it's necessary and I like it chunkier. Add the pecans if using and mix. I lightly toast them in a pan for a few minutes while the cranberry sauce is cooking. Let it fully cool before serving.
Notes
I usually make this several days before Thanksgiving and refrigerate it until couple of hours before the meal. Then I take it out and let it come to room temperature before serving.