Brussel Sprouts. Love them or hate them? You have to try them like this. I personally never understood why people would hate them so passionately, I think it's such a great veggie and we eat them all the time in all different kind of ways. I love them steamed with just a bit of salt and pepper, garlic and olive oil. My hubby loves them steamed with some melted cheese on top, it is his favorite veggie. So we definitely like them in our house, but here is a way that even the doubters will like them. Add some bacon and Parmesan cheese and they are truly amazing. Some lemon zest on top brightens them up and adds another layer of flavor, if you are iffy on them, be sure to try this recipe.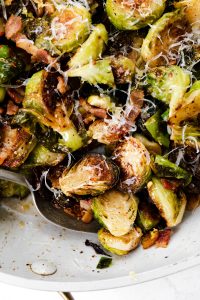 Roasted Brussel Sprouts with Bacon and Parmesan Cheese
Ingredients
1 1/2

lbs

brussel sprouts

olive oil

4

slices

bacon

salt and pepper

1/4

tsp

red chili pepper flakes

1/2

tsp

garlic powder

1

lemon zested

Parmesan Cheese
Instructions
Preheat the oven to 425 degrees. Wash and dry the brussel sprouts and trim their ends.

Cut the bacon and fry it in a pan until crispy.

Toss the brussel sprouts with olive oil, garlic powder, red chili pepper flakes, salt and pepper and roast for about 20 minutes, tossing them half way through.

Crumble the bacon on top of the brussel sprouts, zest the lemon on top and sprinkle freshly grated Parmesan cheese. Mix and serve.