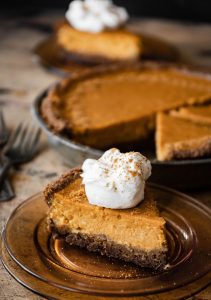 I have two favorite pies. My 'summer' one which is key lime pie, and my "fall" one which is sweet potato pie. Now, that doesn't mean that I don't love other pie. I absolutely love apple pie, pecan pie, blueberry pie, you name it, but these two are my all time favorite. For years I've been making sweet potato pie from Joy the Baker's recipe and it is absolutely amazing, but after ordering some local pit this summer I decided that for Thanksgiving I will be creating my own version of it. If you are local to Utah, James Gourmet Pies has the best sweet potato pie btw! I've ordered them a few times as gifts as well as for us home and they are heaven. Well, his pies have pineapple in them so I decided mine would have it too. I am trying to make pie like his so I will do as he does. It maybe isn't quite as good as his, but it's still a freaking good pie! Ginger snap cookie crust is such a great base for this pie, I used to only make classic pie dough and lately I've been really enjoying pies with cookie crusts. This is a fun twist on a classic and I hope you give it a try, it is a wonderful addition to any Thanksgiving table!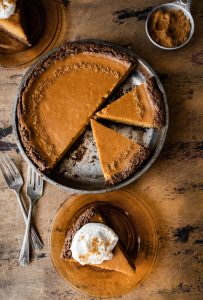 Sweet Potato Pineapple Pie
Sweet potato pie with pineapple in delicious ginger snap cookie crust
Ingredients
220

g

ginger snap cookies

1

tbsp

sugar

8

tbsp

melted butter

1 3/4

cup

mashed sweet potato

about 1 large or 2 small sweet potatoes

1/2

cup

crushed pineapple

1

cup

evaporated milk

1

cup

brown sugar

3

large eggs

1/2

tsp

ground coriander

1/2

tsp

nutmeg

1

tsp

cinnamon

1/2

tsp

ginger

1

tsp

vanilla extract

pinch of salt
Instructions
To make the crust blend the ginger snap cookies in a food processor until fine and then add sugar and melted butter and pulse 10-15 times. Press into a pie dish and bake in the oven for 9-10 minutes at 350 degrees.

Peel the sweet potatoes and cut in 1" cubes. Cook them until fork tender then mash well.

Mix the eggs with the brown sugar, add the slightly cooled mashed sweet potato and evaporated milk, crushed pineapple, spices and vanilla extract. Mix well, then carefully pour into the crust.

Bake at 350 degrees for 1 hour, then let cool completely before serving. Keep in fridge for up to five days. Serve with freshly whipped cream.