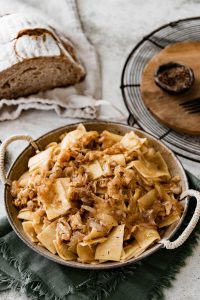 This is a Croatian classic. I will say that most of people grew up eating this caramelized cabbage and onions pasta, or how we call it "Krpice sa Zeljem". I unfortunately didn't grow up eating it. It is more of a northern croatian dish and my parents were both from Dalmatia, which is in the south, so I grew up eating more of the foods from that region. My mom grew up in Dalmatia but her parents were originally from Zagreb where I grew up too, it is the capital of Croatia. They just moved south when my mom was a very little girl. Even though my grandmother was from Zagreb, once she returned here she cooked a lot for us, somehow this dish still skipped my family. I remember always hearing about it from my friends growing up, it was my friends Kristina's favorite food and she'd always happily announced when she was having it, so I can still remember when I finally tried it for the first time at a friends house. Oh boy was it good. It never sounded too appetizing to me just from the name, but I was majorly missing out!
I've been cooking it here in Utah since I moved away, it's such an easy and simple dish to make and it reminds me of home, even if I didn't grow up eating it, I know it's Croatian and it just makes me happy and makes Croatia seem not so far. Food does that for me, especially around the holidays.
This Caramelized Cabbage and Onion Pasta is very easy to make, you just thinly slice the onions and start caramelizing them. Then you slice the cabbage in one of two ways, more traditional is in little squares similar to the shape of pasta I used here, or you can also slice it into thinner strips which I prefer because it is easier to caramelize it, which not everyone does home but it is how I like to do it. I also rarely have this specific shape of pasta that is shown in the photos, I ran into it in a local store once but I typically just use Farfalle for this.It is a few simple ingredients cooked together in the most beautiful way that creates such an amazing dish. If you are a big meat eater you could do something completely untraditional and add bacon to this. I never do it for myself because I feel it isn't needed or the same dish anymore, but my hubby likes it that way, and I think playing with food is totally OK. It is food, we should all relax a bit and enjoy it in any way that we want to, right?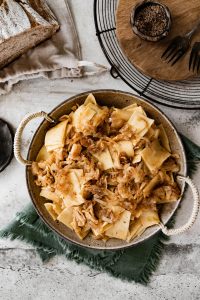 Caramelized Cabbage and Onion Pasta
Croatian traditional cabbage pasta "krpice sa zeljem"
Ingredients
1

lbs

pasta

1

cabbage, small

2

yellow onions

1

tsp

garlic powder

2

tbsp

sugar

1/4

tsp

caraway seeds

1

tbsp

tomato concentrate

salt and pepper

olive oil
Instructions
Thinly slice the onion and the cabbage. Add some olive oil into a large pan and add the onions. Cook them on medium low heat until they are completely softened. Add salt and pepper, garlic powder, caraway seeds, tomato paste and sugar and mix well. Add the cabbage and cook stirring occasionally until onions and cabbage are starting to caramelize, about 30-35 minutes.

While the cabbage is cooking, bring a big pot of water to a boil. Salt generously (about 2 tablespoons of salt) and cook the pasta. Reserve about a cup of pasta cooking water before you drain the pasta.

Mix the pasta with the cabbage and add a bit of pasta water at a time until you are happy with the consistency, this pasta isn't saucy, but it shouldn't be too dry either. Check for seasoning and if desired serve with freshly grated Parmesan on top.