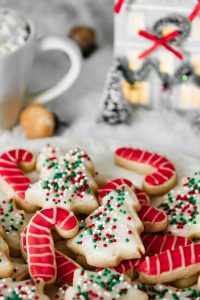 I have to admit I am super excited and happy with how these Christmas Sugar Cookies turned out! They are so adorable and I really enjoyed making them. They are small, I ordered mini cookie cutters because I wanted them to be almost bite sized, and for someone that isn't super good at piping, it seemed more doable decorating them small like that. Plus everything tiny is always so cute, right? I sure think so. The first batch of these cookies I baked for about 8 minutes and since they are small, once they cooled they were a bit crispier, but I did the second batch for couple of minutes less and they remained soft. I have used this recipe from Our Best Bites forever now, what I love about it is that I can easily change up the extracts and change the flavors of the cookies, even though I like to use Vanilla Bean paste most in them, it is so delicious., Also what I find really important is that when chilled they really hold their shape great. Something you really want if you are cutting out cute little cookies. This is the first time I have made Christmas sugar cookies and I hope you love them, my boys sure did!
Christmas Sugar Cookies
Christmas shaped Vanilla sugar cookies
Ingredients
For the cookies:
1

cup

butter, softened

1

cup

sugar

1

egg

1 1/2

tsp

vanilla Bean Paste

3

cups

all purpose flour

1 1/2

tsp

baking powder

1/2

tsp

salt
For the glaze:
1

lbs

powdered sugar

6

tbsp

light corn syrup

6

tbsp

milk

1

tsp

extract, I like to use Almond

different food coloring
Instructions
Cream butter and sugar until light and fluffy- about 2 minutes. Add in eggs and extract and mix to incorporate. In a separate bowl combine flour, baking powder and salt and whisk to combine. Slowly add the flour mixture to the butter mixture and mix until completely combined.

Shape the dough into 2 flat disks and wrap in waxed paper and place in the fridge to chill for 1-2 hours. If you want your cookies to hold their shape well, the dough needs to be really chilled.

When you're ready to roll out dough lightly sprinkle flour onto your work surface and roll out dough with a rolling pin. Cut out your cookies in about 1cm thickness.

Bake at 350 for 8 minutes for larger cookies or 6 for the smaller ones. The baking time really depends on how you like them. If you like them really soft under-bake them. However if you're making large cookies, or ones with small parts or heavy frosting, you might want to be careful because they might break when they're super soft. Remove onto cooling racks when you're done and let cool completely.

To make the glaze, with a whisk, combine sugar and milk until smooth (no lumps!) Then stir in corn syrup and extract. This will be your glazing icing. To prepare the icing for piping the edges and details you just separate a bit of your glaze in a separate bowl and thicken it up with a bit more powdered sugar. Color your glaze desired color and you are ready to go.

I carefully piped the edges of my cookies first with the white or red thicker glaze, then about ten minutes later I filled in each cookie with the thinner glaze. I sprinkled the Christmas trees with sprinkles immediately, and waited another 15-20 minutes to pipe the white candy cane design on. I left them to dry completely for a few hours before I stored them in a box.