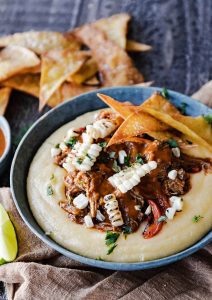 These deconstructed Tamale Bowls have become one of our favorite meals. We eat some sort of Mexican inspired dish 4-5 times a week. It is my husbands favorite and my kids love it too. My husband also loves tamales, but I am quite intimidated by them. Eventually I will try making them, but so far I've been avoiding it. I'm not super happy with store bought versions either, so this was my attempt at replicating some of the flavors but simplifying it so it's doable for me.
I often make a big batch of pork in the instant pot that I make carnitas with, or enchiladas, and in this case Tamale Bowls. I love using instant pot when I am food prepping, especially if my stove or oven are already busy with roasting and cooking other things. This particular recipe I also use in my Pork and Bean Enchiladas, including the same sauce. For the sauce I use the New Mexico dried chilies, I never used to make my own sauces like this but once you do it, there's no going back.
To these bowls I also add some grilled red bell peppers and corn, and homemade tortilla chips and serve it all over cheesy polenta. It is not even remotely traditional, I don't even know if I should call them tamale Bowls, but I promise you it is incredible!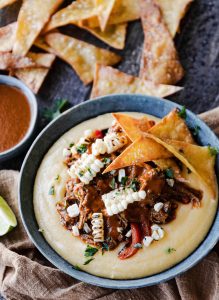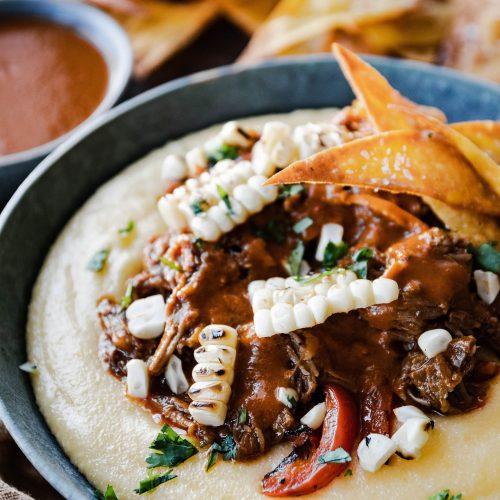 Tamale Bowls
Deconstructed Tamale Bowls with pork in chili pepper sauce served over cheesy polenta with grilled peppers, corn and homemade tortilla chips
Ingredients
For the Pork:
3

lbs

pork shoulder

olive oil

1

large yellow onion

1

orange, juiced

2

limes, juiced

5

cloves

garlic

3

bay leaves

2

tbsp

oregano

1

tbsp

cumin

salt and pepper
For the Sauce:
5

dry chile New Mexico pods

reserved pork broth

1

tsp

cumin

1

tsp

chili powder

1

tsp

garlic powder

1

tsp

onion powder

1

tbsp

butter

1

tbsp

flour
For the Polenta:
4

cups

water

1

cup

polenta

2

tbsp

butter

1/2

cup

shredded cheddar cheese

salt and pepper
To assemble to bowls:
1

cup

cheesy polenta

3/4

cup

pork in sauce

grilled bell pepper and corn

tortilla chips

cilantro
Instructions
For the Pork:
Brown the pork shoulder in your instant pot with some olive oil on saute setting, then add diced onions, juiced orange and limes, minced garlic, bay leaves, oregano, cumin and salt and pepper. Close the lid and seal the went. Cook on high pressure for one and a half hour.

Once the pork is cooked, carefully release pressure and take out the pork, reserving its liquid. Shred the pork and set it aside while you finish the sauce.
For the sauce:
Toast the chile pods for a few minutes in a pan then transfer into a sauce pot together with reserved pork broth, cumin, chili powder and garlic and onion powder. Cook for 20 minutes then blend well in a blender or a food processor. In a small bowl mix the flour with few spoons of the sauce and add it to the pot. Cook while stirring for another ten minutes and then add the butter. Mix with shredded pork.
To make the Polenta:
Bring 4 cups of water to a boil, season with salt and add the polenta. Cook for 3-4 minutes, stirring constantly then turn off the heat and mix in the cheese and then the butter. Season with black pepper and set aside.

Cut the bell pepper in strips and clean the corn. On a grill or grill pan grill the pepper and corn until slightly charred. I grilled my pepper outside so I just sliced my pepper in 4 larger pieces to make it easy to turn, if I was using the grill pan I would have cut it into strips.

Cut the corn off the cob.

If making your own tortilla chips (highly recommend) heat up about and inch of canola oil in a large wide pan or pot. Cut the corn tortillas into desired shape, you can do triangles or thinner or wider strips. Fry until lightly browned then transfer onto a plate lined with paper towels and season with salt.

To assemble the bowls add about a cup of polenta in a bowl and top with about 1/2 to 3/4 cup of shredded pork with sauce. Add some peppers and corn and top with tortilla chips and fresh cilantro. Enjoy!