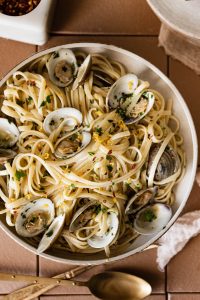 My love for pasta is never ending and this Clam Linguine is at the top of my list. It has a lot of things going for it. First and foremost, it's pasta, and that should be enough haha. But it is a seriously delicious dish. I adore clams, well at least all clams but mussels, and I used Little Neck clams here. They are easy to find at my local markets and are very tasty. This dish is made in time it takes to cook the pasta, so you can have this on the table in 15 minutes!
The list of ingredients is short but impactful. Linguine (I like these the best), clams, olive oil, garlic, parsley, white wine, red chili pepper flakes, lemon, salt and pepper. I call them the Holy ingredients because they are what I love cooking most of my seafood in the best. In a pinch even just garlic, parsley and olive oil will make your fish taste amazing. Clams cook within minutes so most you'll have to do for this dish is chop some garlic and parsley and zest the lemon. Drain the pasta and toss with clams. It is that simple but you'll look like you seriously know what you're doing!
If you love seafood pasta may I also suggest my Squid ink pasta with octopus, so so good. For that dish I get my octopus tentacles pre-cooked from Whole Foods and it also makes it a no fuss quick dish. And if you do not like clams, you can just replace them with shrimp or calamari. Turn Clam Linguine into Shrimp linguine with one easy swap. Pretty much any seafood would work in this.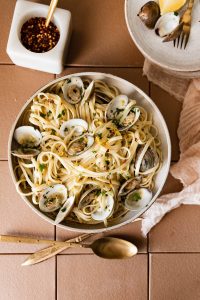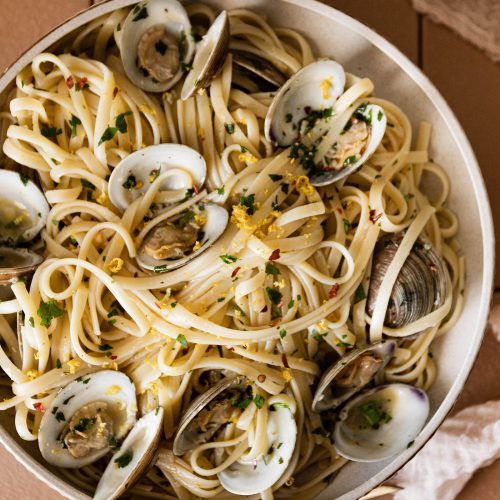 Clam Linguine
Simple and quick Little Neck clam pasta in garlic white wine sauce
Ingredients
1

lb

Linguine

olive oil

2-2 1/2

lb

Little Neck Clams, washed and scrubbed clean

3/4

cup

white wine

1/2

cup

chopped parsley

5

cloves

garlic

1/2

tsp

red chili pepper flakes

1

tbsp

lemon juice + zest of the lemon

salt and pepper

1/2

cup

pasta cooking water
Instructions
Set water to boil in a large pot for pasta. Wash and scrub the clams. Discard any that are open. Chop the parsley and mince the garlic. Zest one lemon and reserve a tablespoon of lemon juice.

In a large pan heat up some olive oil, add garlic, parsley and red chili pepper flakes and cook for 30 seconds then add the white wine and the clams. Season with salt and pepper and cover and cook until the clams open, about 4-5 minutes.

Cook the pasta while the clams are cooking. After clams have cooked for about 5 minutes check them and discard any that didn't open. Add the lemon juice, drain the pasta but reserve a little bit of pasta water first, about 1/2-3/4 cup. Toss the pasta with the clams and add some pasta water to help create a nice sauce. Add the lemon zest and check for seasoning before serving. Enjoy!