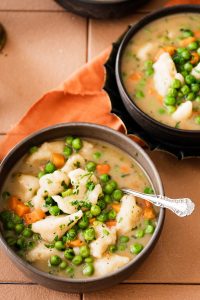 OK. Big statement. Are you ready? This Pea and Carrot Soup with Dumplings is my favorite! Have I had foods that tasted better? Yes. Do I have dishes from back home that I think are yummier? Sure. But this one is my favorite. As in, I haven't seen my mom for a year and now she is here. What is the first thing that I want her to make me? Absolutely this. When I am sick, I want this and when I remember my grandmother cooking for me, this is the first thing that comes to mind. It is just my favorite. And I really hope you make it. Well, if you like peas. I think we already established that I LOVE peas.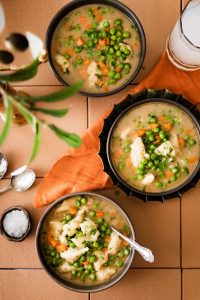 Another unbeatable fact is that this soup is ready in half an hour and rewards you like a slow cooked Sunday meal. It has just a few simple ingredients, and if you use frozen peas and carrot mix, even better. The hardest thing you'll have to do is spend a minute or two spooning in the dumplings, this dish is a total no brainer. It is thickened with roux. I usually make a large batch and keep it in the fridge then add it to soups and stews as needed. But I was out so I made a really small batch really quick for this one, it is done in literally 2-3 minutes.
Another great dish that I might crave even in summer time or when I am under the weather is Croatian chicken soup that also has peas, carrots and dumplings, but is somehow a completely different dish and experience. But if you think you will miss the meat, then give that one a try. This Pea and Carrot Soup with Dumplings is vegan!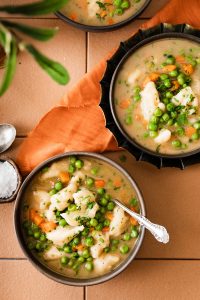 Pea and Carrot Soup with Dumplings
Croatian vegan Pea and Carrot Soup with Dumplings
Ingredients
canola oil

24

oz

frozen pea and carrot mix

or 12 oz pea and carrot mix + 12 oz peas

4

vegetable broth+ water

1/4

cup

chopped parsley

salt and pepper
For roux
1

tbsp

canola oil

1

tbsp

flour
For dumplings
1

cup

flour

salt

water (about 1/2 cup)
Instructions
In a pot heat up some canola oil and add your peas and carrots to it, cook for about 3 minutes then add vegetable broth to it and season it with salt and pepper. Cook for 15 minutes.

While that is cooking, in a small pan add one tablespoon of canola oil and heat it up. Add one tablespoon of flour to it and cook constantly stirring for 2-3 minutes until it darkens in color to a nice medium brown. Turn off the heat and set aside.

In a bowl add the one cup of flour, 1/2 tsp of salt and about 1/2 cup of water. You are looking for a thick paste consistency. Definitely thicker than pancake batter but nothing that would hold it's shape.

Chop the parsley and add it to the soup. With a small spoon start adding the dumplings into the soup. I scoop about 1/2 teaspoon and submerge the spoon into the soup which helps it release the dough. Once you are done with all the dough stir well and add the roux. Stir and cook for about seven minutes adding a bit of water if it seems too thick. Check for seasonings and serve.