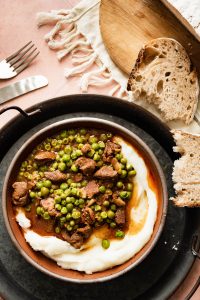 This Lamb with Peas is one of my most memorable childhood dishes.
I honestly had it probably less than ten times in life, maybe even five. But I distinctly remember the very first time I tried it. And that is actually saying something because I have the worst memory. We were on a vacation in the south of Croatia and we were actually on a boat with another family. We don't have a boat, they had a boat. I wish we had a boat. So the father from this other family, I don't remember his name, was making lunch for everyone. I remember watching him cut up the onions and the meat carefully. He was talking to me and telling me what he was doing. I felt so important listening to all the explanations. It's incredible how powerful equal communication can be at that age. When someone isn't talking to you like you are six but like you are a real person that can follow along. I liked him.
Now, I've always been known for loving lamb meat, it is my favorite meat even though I don't eat it often at all. So I was already excited for this dish, and until then I've only had roasted lamb, which to be fair is still one of my very favorite dishes. But this lamb with peas, this was a completely new dish for me, like nothing I ever had before, and I was an adventurous little eater. That first bite blew my mind. I remember it like it was yesterday, the exact taste of it and the joy I felt with something so new and yummy in my mouth. Slow cooked chunks of lamb with lots of onions and wine, and then tons of peas. I always loved peas but we only ate them in a few dishes, like this artichoke and peas dish here. Or in my very favorite peas and dumpling soup that is hopefully coming to the blog in a few weeks. So I just loved everything about this dish.
To finish it off:
In Croatia we often finish dishes with a drizzle of good olive oil, and this dish is no different. I already talked about my love of Croatian olive oil and the best that I can get here in the us is this. If you are in Croatia, well lucky you. Seriously, I hope you know how lucky you are with our amazing food, produce and olive oils! This dish is perfect for Spring and Easter, I always have some kind of lamb on the holiday, I hope you enjoy it!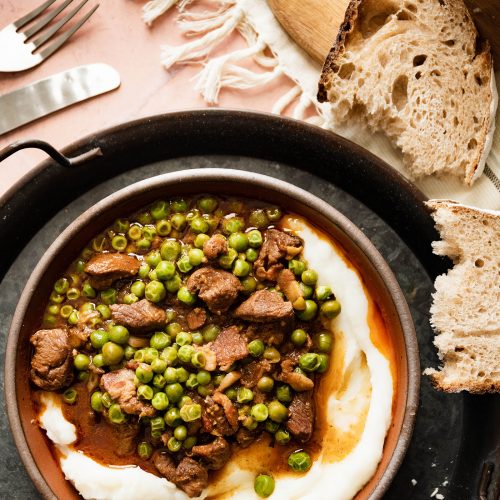 Lamb with Peas
Chunks of lamb stewed with wine, herbs and peas
Ingredients
olive oil

1

yellow onions, large

3

cloves

garlic

2

lb

lamb shoulder, boneless

1/2

lb

pancetta

16

oz

green peas

4

tbsp

tomato paste concentrate

1

cup

red wine

4

thyme sprigs

2

rosemary sprigs

1/4

cup

parsley, chopped

4

cups

broth, plus some water if needed

pinch of red chili pepper flakes

salt and pepper
Instructions
Cut your lamb into one inch pieces, cut pancetta into half inch pieces. Dice the onions and mince the garlic, Chop the parsley.

In a dutch oven or a large pot heat up some olive oil and saute the onions for about 8-10 minutes. Add the pancetta and cook for another 3-4 minutes before adding the garlic and the lamb. Cook the lamb for about another five minutes and then add the tomato concentrate and mix well for several minutes.Add the wine and the herbs and cook for five minutes, then add the broth and cook for about and hour an a half or until the lamb is tender. When the lamb is tender, add the peas and parsley and cook for another 20 minutes. If needed add a little bit of water when you add the peas.

You can serve this over mashed potatoes or polenta, or just serve it with good crusty bread and a drizzle of olive oil on top. Enjoy!