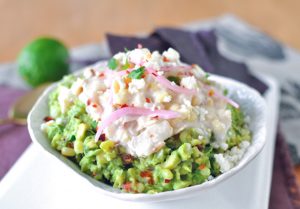 We just got back from our Washington DC trip and  we had a LOT of amazing food. I had the best paella of my life in the same restaurant that we had this dish in, something I will surely try to recreate as well.
 But as for this guacamole? I just have no idea what are all the amazing ingredients that were in there but this is close enough. It's really delicious!
Here it goes: Lobster and Corn Guacamole
serves 4
2 large Haas avocados
2 lobster tails
1 ear of corn
1 red onion (1/3 for guacamole part, 2/3 for pickling)
1 Tbsp of finely chopped Jalapeno
1/4 cup Mexican crema
4 Tbsp of queso fresco
2 limes
Cilantro
1 clove of garlic
hot sauce
salt and pepper
olive oil
This guacamole comes in two parts. The main part which is technically the guacamole part and the delicious corn and lobster topping smothered in Mexican crema and hot sauce.
Start with grilling your corn and lobster tails.  First I rubbed the corn wth tiny bit of olive oil and seasoned it with salt. I grilled it on medium heat for about ten minutes, until it was nicely charred on all sides. That is important.
I cut the lobster tails lengthwise and also rubbed them with a little olive oil and grilled them for just a few minutes until they were just done. No more than 4 minutes.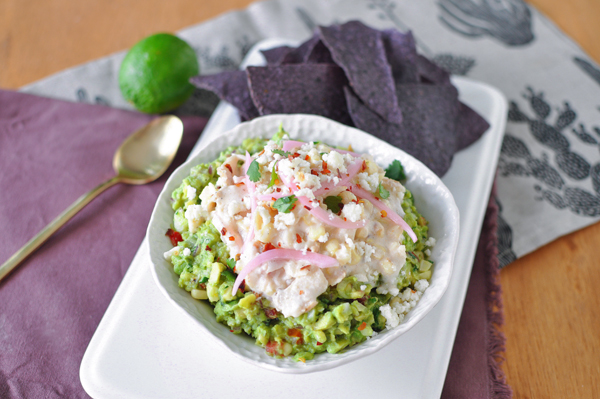 Set both aside and let cool. Finely chop 1/3 of the onion and mince the garlic clove. Slice thinly the rest of the red onion and put it in a bowl with a mix of half water and half white vinegar, a few pinches of salt and small spoon of sugar. Mix well and leave it for about half an hour. You can do this in advance also and keep in a jar in fridge for about a week.
Chop the cilantro (I like cilantro a lot I used about half a bunch, without the stems) and the jalapeno.
When corn is cool enough to handle cut the corn of the cob and set aside.
Remove the lobster meat from the shell and chop it in small chunks.
Now cut your avocados in half and remove the seed. I like some texture in my guacamole so I cut one of the avocados in medium size chunks and the other one I smashed in a bowl with the fork. Next step is juicing one lime over the avocado, adding 1/4 of the corn, diced onions, minced garlic and cilantro (reserve a little for garnish) jalapeno and 3/4 of the lobster. Season with salt and pepper and mix well. Check for seasonings and transfer into a bowl you will serve it in. Make sure it has enough room for the following topping.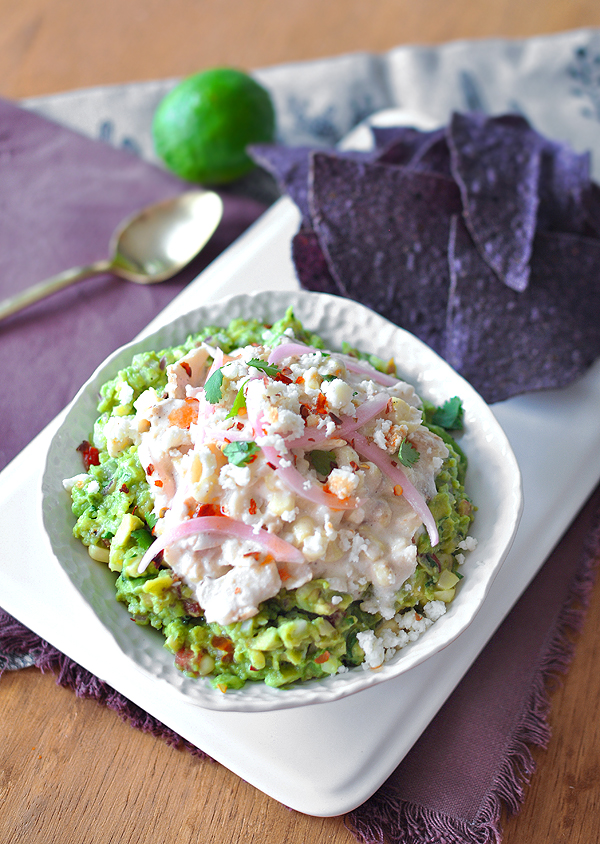 Mix most of the remaining corn (leave a few kernels for garnish – which I forgot), lobster and 1/4 cup pickled onions with Mexican crema and as much of hot sauce as you like. I used about half of a Tbsp. Add juice of half the lime (leave some wedges for serving on the side), 3 Tbsp of queso fresco and season with salt and pepper.
Serve on top of the guacamole and garnish with some extra cilantro, corn kernels, queso fresco and pickled onions, if desired put lime wedges on the side. This is amazing on it's own, with tortilla chips or as I ate it with romaine lettuce spears instead of the chips. I didn't even feel like I needed chips if I'm being honest.
Also, while a wonderful appetizer, it was filling enough to be dinner on it's own or as a side to a juicy steak or fish. I hope you try it!