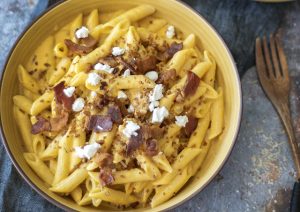 I wait for months for the pumpkin season to come and once it is here you better believe it I'm living it up!
One of the pumpkin dishes I made recently is this cheesy pumpkin penne pasta with some bacon and crumbled goat cheese on top, and yes, it is fantastic. It is also super easy to make, perhaps not the healthiest though, you've been warned!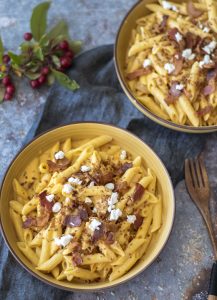 Cheesy Pumpkin Pasta with Bacon
1 package od Penne pasta or pasta of your choice
4 thick slices of fried bacon, chopped
1 cup pumpkin pure
1 8 oz cream cheese
1/2 grated Parmesan cheese, divided in half
1/2 tsp garlic powder, divided in two
4 Tbsp butter
1/4 cup panko bread crumbs
1/2 tsp Herb de Provence
salt and pepper
4 Tbsp crumbled goat cheese
reserved pasta water
Boil the pasta al dente. Fry the bacon and then chop, you will use it as a topping later.
While the pasta is cooking prepare the bread crumbs. Start with browning the butter but be careful not to burn it then add to it the bread crumbs, Herb de Provence, half the garlic powder and salt and pepper and stir for a minute then set aside into a bowl to cool a little before mixing in half of Parmesan cheese.
In a pan large enough to hold your pasta melt the cream cheese with the pumpkin pure, add the rest of the Parmesan cheese and season with salt and pepper and half of the garlic powder. When pasta is cooked add it to the pan and mix well. Add some pasta water to thin out the sauce to the desired consistency and then it's ready to serve.
Top with chopped bacon, Parmesan breadcrumbs and some goat cheese and enjoy!