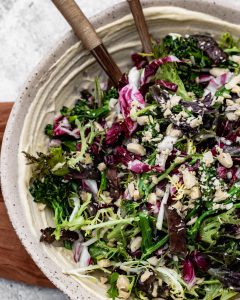 I am a big time salad lover, just to get that out right away, so I will always love a salad. But I have two favorite salads and both are from Gaby from What's Gaby Cooking. If you are in search of a phenomenal salad, I love her avocado kale caesar (vegan) and her Summer stone fruit salad, I make those again and again and again. However, if you want a phenomenal salad, in fact – my new #1 favorite salad – you can also just stay right here because I got one for you. This is SO SO GOOD!!!
I was inspired to make this after eating a salad in a restaurant that I really go to very seldomly and I needed it in my life more often that every six months. I think it is amazing as a stand alone dish but it would be such an amazing addition to a Thanksgiving table, or any meal for that matter.
It is made with frisee and radicchio – chicory would be great here and so would kale.
The base layer for this salad is a gorgeous, not too thick hummus that is brushed all around the bowl. It coats the lettuces and roasted broccolini that are tossed with Madjool dates and Marcona almonds in a beautiful Sherry Vinaigrette and it makes just a salad so beautiful I could cry. Like for realz, you have to try it!!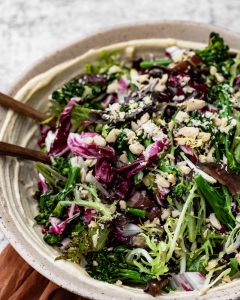 Frisee, Radichio and Broccolini Salad with Dates with Sherry Vinaigrette
3 cups of frisee salad
2 cups radicchio
8 oz broccolini
2 cloves garlic, minced
10 pitted Madjool dates, sliced in 1/4″ pieces
1/3 cup chopped Marcona almonds
olive oil
1/4 cup hummus, you can make your own of course but I used my favorite store bought one (no additional flavoring) to further simplify this salad
salt and pepper
Sherry Vinaigrette (recipe bellow)
In a pan saute the broccolini with little olive oil, garlic and salt and pepper, this will be quick, you want broccolini to still have a nice bite to it. When it is cooked cut it into large bite pieces. Set aside.
Take your hummus and thin it down with about 2 Tbsp of the Sherry vinaigrette and using a pastry brush generously coat the bowl you will put the salad in with the hummus mix.
In a separate mixing bowl mix frisse, radicchio, broccolini, dates and most of the almonds (reserving some for the garnish) and toss them with the vinaigrette.
Transfer into the serving bowl coated with the hummus and garnish with the remaining almonds.
It. Is. Phenomenal!!!
for the Sherry vinaigrette:
1 Tbsp Gray Poupon mustard
1/4 cup olive oil
1 clove garlic
1 Tbsp maple syrup
3 Tbsp Sherry vinegar
salt and pepper
Mince the garlic as fine as you can and then sprinkle with salt and make a paste of it using your knife or back of a spoon. Mix it with rest of the ingredients and whisk well before serving.