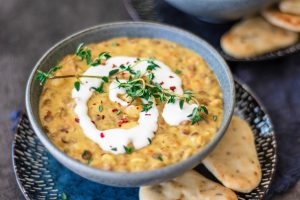 Here is a beautiful bowl of yummy Fall comfort right here. I'm balancing it out since I just posted a nice and healthy salad, we can afford a nice creamy chowder today. This isn't exactly unhealthy, I mean it has lentils…it just also has a full block of cream cheese so a little bit of balancing out is needed! 🙂
This is ready in Instant Pot in under an hour, including saute time and coming to pressure, very easy to make both in the Instant Pot or in the stove top.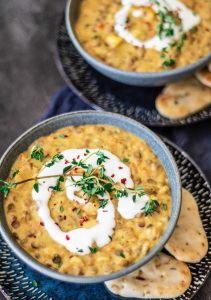 Lentils and Sweet Potato Chowder
1 large yellow onion
2 carrots, grated using the larger side of the grater
5 oz diced pancetta
3 cloves garlic, minced
1 large sweet potato cut into 1/4″ cubes
5 cups chicken broth
1 1/2 cups lentils
olive oil
1 tsp Herbs de Provence
1/2 tsp paprika
salt and pepper
8 oz cream cheese
1/2 cup half and half (if needed)
Turn your Instant Pot on Saute setting and cook onions and pancetta in a little bit of olive oil until pancetta is rendered.  Add the garlic stirring it for a minute then add the rest of the ingredients except the cream cheese and half and half. Close the Instant Pot, close the vent and set it to manual for 20 minutes.
When it is done, let release naturally for 10 minutes then release the rest of the pressure manually if needed. Put in the cream cheese and stir it in well. Depending on consistency you may add the half and half now.
If you are making this chowder on the stove top, in a large pot saute the pancetta and onions in a little olive oil. When pancetta renders add the garlic for just about a minute and then add carrots and sweet potatoes. Cook for about 2 minutes before adding rest of the ingredients, minus the cream cheese and half and half.
Cook for about 40 minutes then add in the cream cheese and stir it in well. For a thinner consistency you can add 1/2 cup of half and half.
Enjoy!