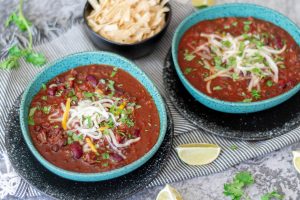 I make all kinds of chili but this one is probably my husbands favorite. I think he likes the chunkier meat in this version.
Now, I use the term Texas chili loosely because there are all these rules depending on who you ask, and all I mean by it really is that I'm using beef chuck chunks here instead of traditionally ground beef.
I love the texture and richness it gives it, alongside another secret ingredient!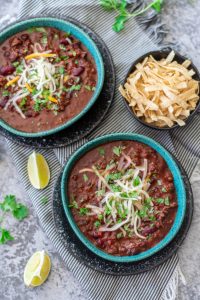 Texas Chili
3.5 lbs beef chuck cut into about 1 1/2″ chunks
1 large yellow onion, diced
1 red bell pepper, diced
5 cloves garlic, minced
4 cups beef broth
2 cans fire roasted tomatoes
2 cans crushed tomatoes
1 can kidney beans
2 cans black beans
1 finely diced jalapeno pepper
2 Tbsp chili powder
1 Tbsp ground cumin
salt and pepper
2 oz of dark chocolate (believe) =
1 Tbsp of sugar if needed (there is a lot of tomatoes in it and sugar helps with the acidity. Play it by ear, dark chocolate may be enough for you but I added a tablespoon and love it like that.)
In a large pot saute the onions in olive oil and add the beef once they are softened, cook the meat for about ten minutes then add the garlic, peppers and jalapeno, cook for about five minutes and then add the rest of the ingredients but the dark chocolate, sugar and the beans.
Cook for hour and a half stirring occasionally until the beef is soft and starting to fall apart. Now you can helo it along with the back of the stirring spoon or spatula and once that is done add the beans and cook for another half hour. Add the chocolate and check for seasoning. Now you can add that sugar if you think it is needed, cook for another half hour and it is ready to eat!
I like to serve this chili with some cheese and cilantro on top and tortilla strips on the side so everyone can choose how much and when they want to add it. My husband adds a lot in several helpings throughout the meal, what can I say, the guy likes his tortilla strips! 🙂