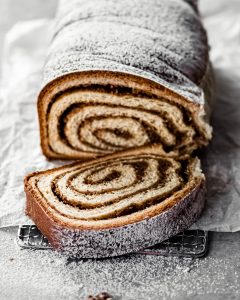 This one is special to me guys. It is a very traditional Croatian recipe and we call it Orehnjača, it is a sweet bread in a very recognizable swirl design with its filling being made out of walnuts. It is absolutely delicious! The filling can also be made with poppy seeds and while I love that one too, the walnut version is my favorite.
This particular recipe is my aunt's and we have all been using it for years, every household in Croatia has it's favorite version and this one is by far my favorite. My aunt is a great cook and being so far from home I cherish recipes like these that remind me of home and make me feel closer to it during the holidays.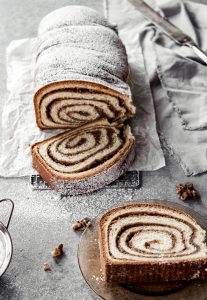 Walnut Roll Bread
11 Tbsp (150 grams) of melted butter
6 1/2 cups (800 grams) of flour*
3/4 cups (150 grams) of sugar
1 bag of vanilla sugar
3 egg yolks
1 1/2 bag of active dry yeast
1 1/3 cups (300 ml) warm milk mixed with 1 Tbsp sugar
1 tsp salt
peel of one orange and an lemon
*I like to use a mix of all purpose (4 1/2 cups) and cake flour (2 cups) but using just all purpose flour is totally fine!
Put the yeast in warm milk mixed with one tablespoon of sugar and let it bloom.
In a stand up mixer bowl mix the flour, sugar, butter, egg yolks, vanilla sugar, salt ,orange and lemon peel and milk with yeast and with a kneading hook mix for at least five minutes. You want a nice soft dough and it's ok if it's just slightly sticky. After the mixer does it's thing I like to knead it by hand for another three or four minutes, then I put it in a floured bowl and let it proof in a warm place until it doubles. For me it usually takes about an hour and a half for this to happen.
When the dough is almost ready prepare the walnut filling.
walnut filling:
1 lbs of ground walnuts
3/4 cups of sugar
1 bag of vanilla sugar
1/2 tsp cinnamon
1/2 tsp rum extract
1 cup very hot milk
Mix first five ingredients and then pour hot milk over it and mix well. Set aside.
Preheat the oven to 350F.
Once your dough has doubled it is time to make the bread. You will split the dough in two. Prepare a 9X13 baking pan by spreading butter all over it and then flouring it, getting rid of any access flour.
Take the first part of the dough and roll it into a large rectangle. Make sure the surface you are rolling the dough on is floured very well. You want the width of it to be just slightly over 12″ but the height about between 24″ and 28″. That will allow us to roll the dough enough times and create a nice swirling effect.
Spread half of the walnut filling over the whole rectangle but the last two inches at the very top so the filling doesn't seep out and it's easier to finish the roll. For the same reason also leave about and inch filling free on each side of the roll.
Once the filling is evenly spread, carefully start rolling the dough upwards, make sure you are rolling it tightly but not so tight that you are making it widen too much. It will widen some but that is ok because you'll fold in the ends and then it should fit nicely in the width of the baking dish.
Repeat with the second piece of dough and transfer both rolls into the baking dish. It is ok if there is room between the rolls, they will grow bigger in their second proofing and in the oven.
Cover the rolls and let them proof for another 30-45 minutes then right before you put them in the oven splash some water on top of them with your fingers. Bake them in the oven for 1 hour. You want them deeply golden brown and if they seem to be darkening too much towards the end you can loosely cover them with some aluminum foil.
Let cool completely before removing from the baking dish and separating the loaves. Dust with powdered sugar before cutting into them and enjoy with a cup of tea or coffee. Or if you are a kid at heart with a cup of hot cocoa.