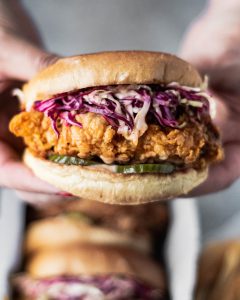 So I've never been to Nashville, is this really a Nashville style fried chicken sandwich? I don't know, but we do have this amazing joint Pretty Bird that opened downtown and there is where I had this type of sandwich for the first time – I was instantly hooked! The perfect soft bun, yummy slaw and pickles, delicious sauce and of course the star – perfectly fried chicken thigh full of spices that honestly surprised me! I of course have no idea what exactly was in them but I made my own special mix and it works so well I really hope you try it!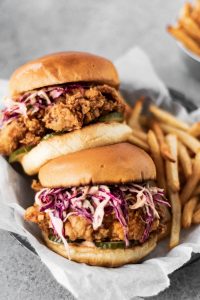 Nashville Style Fried Chicken Sandwich
2019-12-23 19:06:02
Spicy fried chicken sandwich with slaw and homemade pickles
Nutrition Facts
Amount Per Serving
* Percent Daily Values are based on a 2,000 calorie diet. Your Daily Values may be higher or lower depending on your calorie needs.
Ingredients
6 boneless skinless chicken thighs
6 brioche buns
homemade pickles
cole slaw
spicy fry sauce
spicy chicken oil
for the marinade
1 cup buttermilk
4 Tbsp pickle brine
1 tsp garlic powder
1 tsp salt
1 tsp cayenne pepper
1 Tbsp hot sauce
freshly ground black pepper
for the chicken dredge
2 cups flour
2 tsp paprika
2 tsp cayenne pepper
1 tsp garlic powder
2 tsp salt
freshly ground black pepper
for the pickles
2 Persian cucumbers
1/2 cup white wine vinegar
2 Tbsp sugar
1 tsp salt
2 garlic cloves, roughly chopped
for the slaw
3 cups shredded red cabbage
3 cups shredded white cabbage
2 Tbsp white or red wine vinegar
1 Tbsp canola oil
3 Tbsp mayonnaise
1/2 tsp paprika
1/2 tsp celery salt
1/2 tsp garlic powder
freshly ground black pepper
for the spicy fry sauce
1/2 cup mayonnaise
1/4 cup ketchup
2 Tbsp pickle brine
1/2 tsp cayenne pepper
salt and pepper
for the spicy chicken oil
1/2 cup butter
2 Tbsp honey
2 Tbsp cayenne pepper
1 tsp garlic powder
1/4 tsp cinnamon
1/4 tsp all spice
Instructions
Combine all the marinade ingredients and put the chicken thighs in it. Let sit in fridge overnight or for at least 4 hours.
Slice the pickles. Mix the vinegar with sugar, salt and garlic cloves and pour over the pickles, Cover and refrigerate overnight (or longer).
When you are almost ready to cook the chicken prepare the slaw, spicy fry sauce and spicy chicken oil.
Shred the cabbage. Add the vinegar, mayonnaise, oil, paprika, celery salt, garlic powder and pepper, mix well and set aside.
Mix mayonnaise, ketchup, pickle brine, cayenne pepper and salt and pepper and set aside.
Take all the ingredients for the spicy chicken oil and put them in a small sauce pan and let them cook together on low for a few minutes so it all comes together.
Take your chicken and add a bit of the buttermilk from the marinade to the flour and spice dredging mix so it makes small clumps. Add chicken to the flour and coat well then add it back to the buttermilk and one more time dredge with flour.
Fry for about 6 minutes on each side in a cast iron pan with about 2" of oil in it on medium high heat (about 350F). When its cooked through set it out for a few minutes on a cooling rack.
While the chicken is cooling put your brioche buns cut side up on a baking sheet and put them under broiler for about a minute so they get nice and toasted. After the chicken has rested for about 5 minutes brush it on both sides with the spicy chicken oil.
To assemble take your brioche bun, put a few tablespoons of spicy fry sauce on the bottom of the bun, put some pickles on top and then the chicken thigh, finishing with a generous amount of the slaw. Put the top of the bun on and you are ready to eat, these are insanely good!!!
Notes
Add chicken and pickle resting time to the total time. I left mine in the fridge overnight and it worked great!
Don't get overwhelmed with the amount of components or ingredients. Thy are all common pantry items and it all comes together very fast!
Mogwai Soup Blog https://mogwaisoup.com/